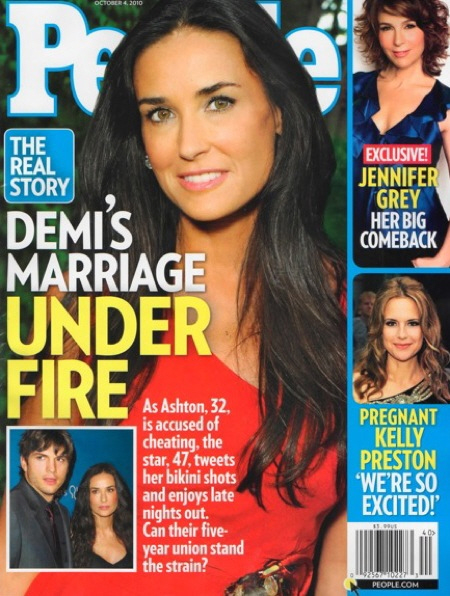 It has been said that once People Magazine calls you out, your CatFace is in trouble. So it is with Demi Moore and Ashton Kutcher. As I wrote earlier, Star Magazine released their third cover story in a row about Ashton cheating on Demi with much younger club girls – one a hot young blonde at Madeo, the other a young Demi-type named Brittany Jones, who Ashton allegedly boned on his wife's couch. I'm struggling to figure out if Demi's people organized this People Magazine cover story to combat the Star stories, or whether People is calling out Demi and Ashton. Here's the online excerpt:
As Demi Moore and Ashton Kutcher prepare to celebrate their fifth wedding anniversary on Friday, they are weathering a storm of rumors regarding their relationship.

With tabloid allegations circulating that Kutcher, 32, cheated on Moore, 47, the couple are presenting a united front. On Sept. 18, Kutcher visited Moore on the Michigan set of her film The Reasonable Bunch. During the visit, a set source says the couple seemed as loving as ever: "She gushes over Ashton," the source tells PEOPLE in this week's cover story. "You could hear them laughing in her trailer."

Privately, another source says, the couple are "angry" about the rumors and have instructed loved ones not to inquire: "Kind of a 'don't ask, don't tell' policy."

But others are not so sure their much-scrutinized age difference hasn't finally caught up to the couple.

"Somehow I thought it was going to come back to haunt them," says an industry colleague. "He got married young and, as crass as this sounds, never seemed to have his fill." Still, "they seemed super committed."
[From People Magazine]
So… it doesn't seem like Demi or Ashton are quoted in the story, but it does seem like they authorized some people to talk on their behalf about how in love they are. People seems to have gone one step further, though, and they got themselves some harsh quotes. My mom and I were talking about it last night – my mom's opinion is that Ashton is gay and that Demi is going to leave him. My opinion is that Ashton is a player and that he's probably always been unfaithful to Demi throughout the years, and that when Demi takes a good long look at her marriage, she's going to leave his ass. I believe that Demi is strong enough to leave, and let's hope she proves me right.
Meanwhile, Radar has an addendum to Star Magazine's reporting about the affair. They make Brittney Jones sound like an old-fashioned starf-cker, in the vein of one of Tiger's Ho-Jo's waitresses:
Brittney Jones, the 21-year-old woman who claims she had a steamy one night stand with Ashton Kutcher, had her sights set on him for years, RadarOnline.com is reporting exclusively. A source close to Brittney told RadarOnline.com exclusively that Jones "has always been obsessed with Ashton" pre-dating the steamy affair with the married actor.

"She told me once that he was by far the number one celebrity she'd like to have sex with," said the insider, who knows Jones extremely well. "And she is totally the type to do it."

RadarOnline.com has also obtained some never-before-seen photos of Jones who has since hired a manager and publicist in the wake of the scandal. Star Magazine was first to report the Kutcher's cheating scandal, revealing how Jones first met the actor, 32, in July at Lucky Strike Lanes in Hollywood. Kutcher was there with wife Demi Moore, 47, her daughter Rumer Willis and some friends.

According to Jones, Kutcher struck up a conversation with her and despite knowing he was there with his wife, she slipped him her number on a cocktail napkin as he was getting ready to go.

A few days later, Jones said the actor brought her back to the sprawling Hollywood mansion he shares with Moore. There she seduced her on the family couch while Moore was in Detroit shooting a movie.

"It was tender and nice," she recalled, "not some random sex act."

Kutcher and Moore, who are separated by a 15-year age gap, celebrate their fifth anniversary later this month. While most consider Moore to be one of the most beautiful women in the world, there's no escaping the fact that Jones, 21, is half her age.

Earlier this month Moore recently posted a picture of herself in a sexy bikini on her Twitter page which sparked curiosity about the message she seemed to be sending: stay away from my man! For the record, Kutcher has publicly denied cheating. But the source who spoke to RadarOnline.com insisted Jones is telling the truth about her steamy affair with Kutcher.

"I believe she did it," the insider told RadarOnline.com. "I've known Brittney for a while and her family is the same way. They're all gold diggers… she probably took one look at Ashton and saw dollar signs."
[From Radar]
Yeah. I believe Ashton and Brittany f-cked too. And I think Ashton should have known better.
People cover courtesy of CoverAwards.