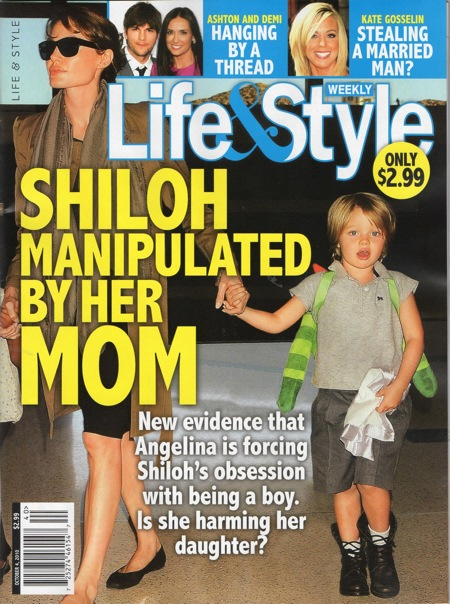 For. The. Love. Of. God. Life & Style seems to think they've got a winning tabloid recipe by continuing the "Angelina Jolie is evil, and a horrible mother, because Shiloh is dressed like a boy" cover stories. I've lost count of how many covers they've run on that theme – this might be the sixth, maybe? It's beyond ridiculous. Life & Style's editors seems to think that Angelina and Angelina alone is the "reason" that Shiloh wears pants. According to their sources and experts, when Angelina isn't sending messages to the gerbils via carrier pigeon, she's barking orders at her stylist to find some cargo pants for Shiloh. "Yes," Angelina says, rubbing her hands together. "It's her fault for not being born a boy, I will rectify the situation by giving her a bowl cut."
While Angelina Jolie has always insisted she has nothing to do with daughter Shiloh's controversial boyish behavior, insiders close to the family tell Life & Style that Angelina's actually the one dressing Shiloh like a tomboy. "She's been dressing Shiloh in her older brother Maddox's hand-me-downs, including making her wear boys' boxer shorts, for years," the insider tells Life & Style.

"It definitely doesn't look like she dressed herself," Children's stylist Zoey Washington tells Life & Style, referring to Shiloh's trendy ensemble on Sept. 14 at LAX–an Old Navy Pique Polo boys' top, shorts brother Maddox wore in 2007 and unlaced combat boots. "Maybe her mom had her stylist throw the look together."

"Angelina has an idea that each child should have a specific personality that she picked out for them practically at birth," the insider says. "She's the tomboy."

In fact, she even gave her daughter a boy's name. Of Hebrew origin, Shiloh has meanings including "his gift" and "he who is to be sent" and is traditionally used for boys. And she's come to prefer boys' names: Shiloh asks to be called John or Peter, Brad once revealed. And a second insider tells Life & Style she's added the name Gregory to her list.

"It's normal for a little girl to explore the opposite gender," notes psychologist and parenting expert Jonathan Alpert. "But if a parent is trying to defy a cultural norm at the expense of the child, that's a different story. Parents shouldn't push their agenda via their child."
[From Life & Style]
I thought they named her Shiloh because Angelina's mother Marcheline loved the name "Shiloh Baptist" and Marcheline always wanted to name one of her kids that? And "Shiloh" was a name that was used by both Angelina and James Haven at various times in their lives, and it had great significance to them? As far as wanting to change her name – yeah. A lot of kids do that. I wanted to be called "Diane" for years when I was a kid. And now I write under a completely different name too. And I wear pants ALL THE TIME. ZOMG!!! Angelina has forced me to become a lesbian too!!!
So, basically, I wish Life & Style would eat a big, burning bag of d-cks. F-ckers.
Life & Style cover courtesy of CoverAwards.