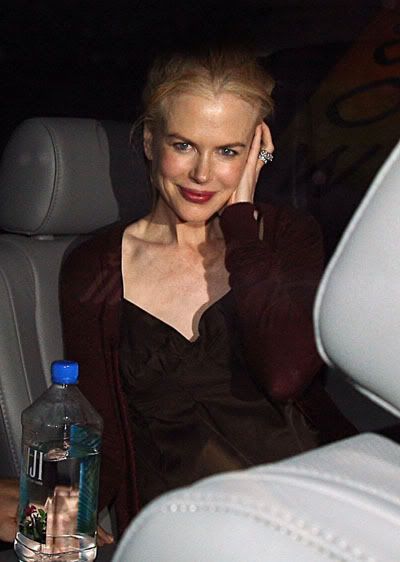 Nicole Kidman is like any other pregnant woman – she gets the morning sickness, the cankles, and the wrinkles from stress. Or a lack of botox.
Like every other regular pregnant woman out there, she's excitedly documenting her pregnancy with naked photos.
Nicole Kidman has chosen Patrick Demarchelier to take exclusive photographs of her pregnant body.

The 40-year-old actress – who is expecting her first biological child with husband Keith Urban – is said to have decided on the renowned photographer to take the exclusive snaps, but wants to wait until she is nearly ready to give birth before the shoot.

A source close to the Cold Mountain actress told the New York Daily News newspaper: "Nicole wants to wait until she looks really pregnant."
I know this is quite a trend, to get appropriately airbrushed pictures taken of your enormous baby bump, while nude. I think it's a little bit strange for people who wouldn't normally get naked pictures taken to suddenly say "My body is the weirdest shape it is ever going to be, let's get some nude pictures taken."
What I don't understand is why celebrities such as Christina Aguilera will get nude pictures while preggers, and allow it to be displayed in a classy magazine like Marie Claire. Under no circumstances could I imagine those same pictures being published in Playboy.
There's no mention of whether Nicole will be offering her pictures for publication.
Just a note for pregnant people who might be thinking about getting nude pictures taken to document this exciting time in your life – if you can't afford a professional photographer, be careful taking them yourself. You could wind up with the most hideous nude pictures you will ever see, the kind of ones that you'll use to scare your teenage daughters into using contraceptives.
In other Kidman news, the trailer for Nicole's film Australia has just been released.
Picture note by Celebitchy: Nicole Kidman is shown leaving the Bryan Adams concert at The Roxy on Sunset Boulevard on 5/19/08 and at the Academy of Country Music Awards on 5/18/08, thanks to WENN.