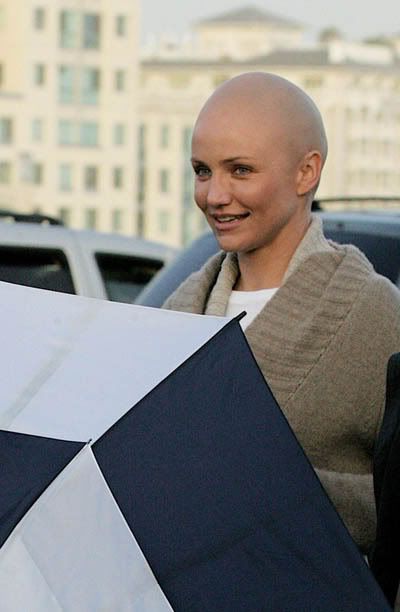 Cameron Diaz was seen sporting a bald head on the set of My Sister's Keeper in Los Angeles yesterday. My Sister's Keeper is based on a novel by Jodi Picoult about a young girl who sues her parents for emancipation.
Mild spoilers follow
Older sister Kate, played by 15 year-old Sofia Vassilieva, has leukemia, and younger sister Anna, played by Abigail Breslin, resents her parent's decision to have her donate a kidney to her sister. Dakota and Elle Fanning were originally going to play the sisters, but Dakota is said to have balked at the idea of shaving her head for the role.
According to Wikipedia, Diaz plays Sara, the mother of Breslin and Vassilieva's characters. She shaves her head in support of her older daughter.
Diaz is wearing a cap, according to The Daily Mail, and hasn't shaved off her shoulder-length straight blond hair.
Thanks to WENN for these photos.