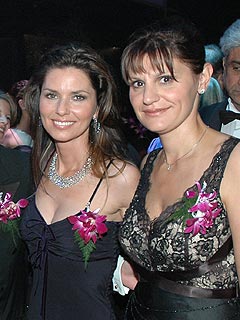 The woman that Shania Twain's husband of 14 years allegedly cheated with, his secretary Marie-Anne Thiébaud, was a close friend of Shania's family. People has a new story about the affair complete with a picture of Shania and the other woman, and says that "Shania considered Marie-Anne one of her best friends" and that their families even vacationed together.
It's been pretty clear to me from the start of this Shania Twain divorce story that Shania's camp is behind the leaks to People Magazine. People does not seem likely to run "insider" stories with such conviction unless they have news directly from someone's rep. Now that they have a picture of the other woman with Shania it definitely looks like she's the one feeding them information and details on her divorce. It's as if Shania is holding up the mistress for public condemnation and as a comparison to how gorgeous she is, because they're standing right next to each other in the photo.
And can you blame her? She must be livid that this was going on right under her nose. There's been some speculation that Shania Twain and her husband haven't had sex in some time, because she's said to practice a religion called "Sant Mat," that supposedly does not allow sex except for procreation. (Thanks to commenter "Other Karen" for this article, written by People Magazine in 2002.) I couldn't verify that Sant Mat actually has this abstinence requirement of followers, though, nor is there any confirmation that Shania continues to practice it more than five years after she gave that interview to People.
If you were in Shania's position, would you tell the press all about how your husband betrayed you along with providing a photo of his new mistress to illustrate your point? I can't say it wouldn't occur to me.