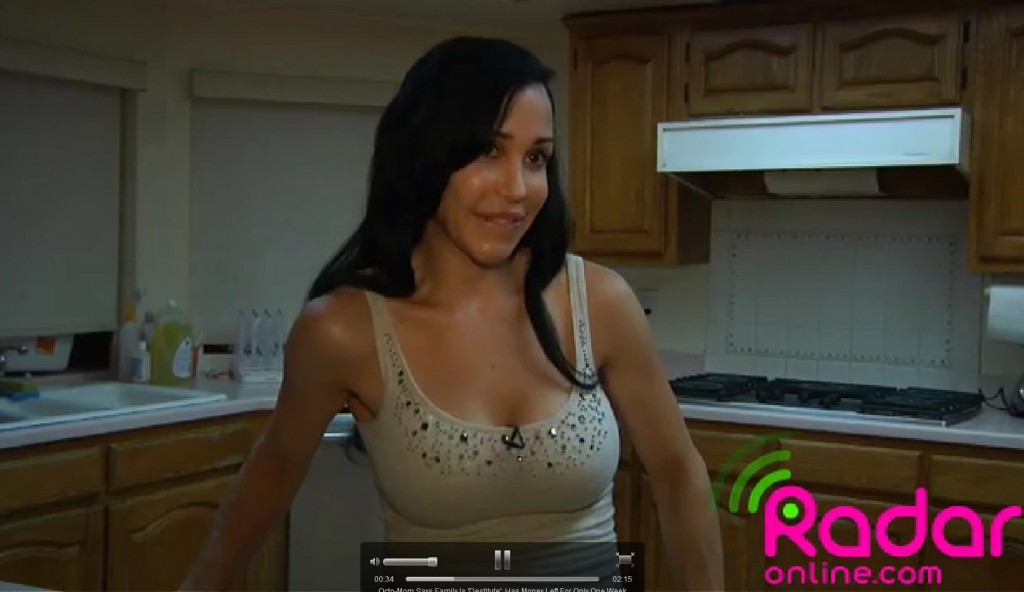 For the four of you who were wondering what happened to Octomom: she's completely broke and her house is in foreclosure. Gee, who would have predicted this from a woman who milked the system for years, declared bankruptcy a couple of years ago and also forced her parents to declare bankruptcy and have their home foreclosed upon? Some people have no idea how to live within their means. Don't worry, Octomom promises us she's not going to do porn or pose naked in order to make ends meet. She'll go on welfare before she does that. I'm wondering how this woman affords Botox, (she must have had it, her face barely moves) extensive plastic surgery (she obviously had it) and fake nails but can't pay her mortgage. I guess we know where her priorities are.
Suleman held a yard sale over the weekend in order to earn some publicity and quick cash for her next spa treatment. She auctioned off things like bikinis, panties, clothes and a couch and posed for photos with her kids at $100 a pop.
Nadya "Octomom" Suleman threw a yard sale at her La Habra, Calif., home Saturday in hopes of making enough cash to pay her mortgage.

For sale: Bikinis, bras and baby clothes, among other items.

Ten dollars could buy you a shot with the controversial mom, who made headlines last year when she announced that she was expecting octuplets even though she was a single mother on welfare who already had six children.

She wanted $100 to pose with her and her octuplets.

A Lakers jersey signed by Suleman? $125.

Eight devil costumes worn by her children for Halloween had a price tag of $50, and a refrigerator that once stored baby formula fetched $85.
[From US Magazine]
Radar has two recent video interviews with Nadya, and it's more of the same from this practiced liar in denial. She admits to only having enough money to live on for a week but then says that she'll be in her home for at least a few more months during foreclosure proceedings but will somehow be able to sell it if she has to. At least she's holding a yard sale to make ends meet, but I can't help but think that she may as well do porn. There are plenty of California taxpayers who would support her decision.
Photos are screenshots from video on Radar Online