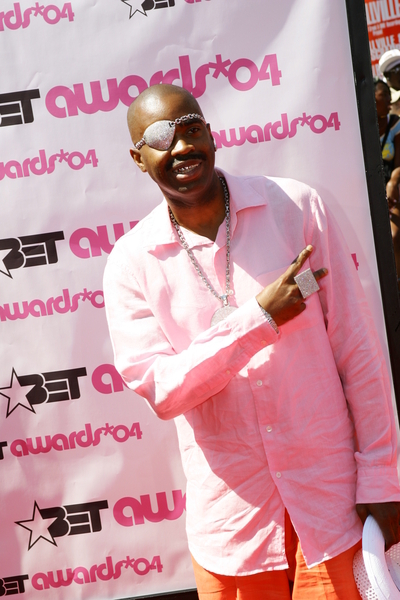 Still newish New York Governor David Paterson, who was called in to replace professional john Eliot Spitzer, has given influential old-school hip-hop artist Slick Rick a full and unconditional pardon on his conviction of attempted murder back in 1990. The circumstances of the shootings and the trial that convicted Slick Rick, aka Ricky Walters, have always been suspect. Rick served his time in prison for the shooting, but as he was born in London he is still subject to deportation under tougher laws enforced after September 11. The governor's pardon makes it less likely that he will be deported, but due to complicated legal issues, it's still a remote possibility:
Break out your Cool Water cologne! New York Governor David Paterson has granted a full and unconditional pardon to rapper Slick Rick for the attempted murders of his cousin and another man.

The eyepatched rapper, whose real name is Ricky Walters, served more than five years in the slammer after the 1991 shooting of the two men, who both survived.

The Feds had been trying to deport the UK-born Slick since 2002. The pardon should halt these efforts.

The good gov says the rap star is a good citizen who does volunteer work in his community. For his part Rick says, "I look forward to enjoying this time with my family and friends and to continue leading an honest and productive life."
[From TMZ]
In 1990, Slick Rick shot two men, his cousin and an innocent bystander, outside a club. The pair both survived the shooting. Rick claims that his cousin had made threats against him and his mother, and believes his cousin was plotting to kill him. Rick was indicted on two counts of attempted murder and pled guilty to all charges (as advised by his counsel). He was released in 1998.
Department of Homeland Security was trying to deport Rick for conviction he already served time for
Rick was arrested by the INS and placed in a Florida prison in June, 2002, when he tried to enter the US after performing on a Caribbean Cruise ship. Since he was born in London and moved to the States as a child, he was considered a British citizen and was subject to deportation under laws that allowed for deportation of non-us citizens convicted of violent felonies. He sat in jail for 17 months while he awaited deportation, again after he had already served his full time for the crime, and was refused bail repeatedly. He was finally released in 2003.
According to Wikipedia, the Department of Homeland Security started to try and deport Rick again in October, 2006 using his old conviction as justification. Governor Paterson's pardon gives him partial immunity from deportation, and he is not likely to be deported, but due to complicated legal issues it's still a possibility. Governor Pataki's statement notes that Rick has not been in trouble with the law since his release from prison in 1997, that he does charity work, and that he has has an American wife and two children.
Here's some music and videos from Slick Rick, found via Slick Rick's page on Last.fm, where you can listen to four full tracks.
"Children's story" You might recognize this beat as the original that was sampled for Montell Jordan's "This is How We Do It". From The Great Adventures of Slick Rick, 1988.

"Moses," this is not the real video for this song as YouTube user datencro just set it to Disney's The Prince of Egypt with captions. This song came out in 1991 on The Ruler's Back .

"La Di Da Di" live with Doug E Fresh

Slick Rick is shown at the 2004 BET Awards on 06/28/04, thanks to PRPhotos. He wears a patch as he's blind in his right after a glass injury when he was an infant.