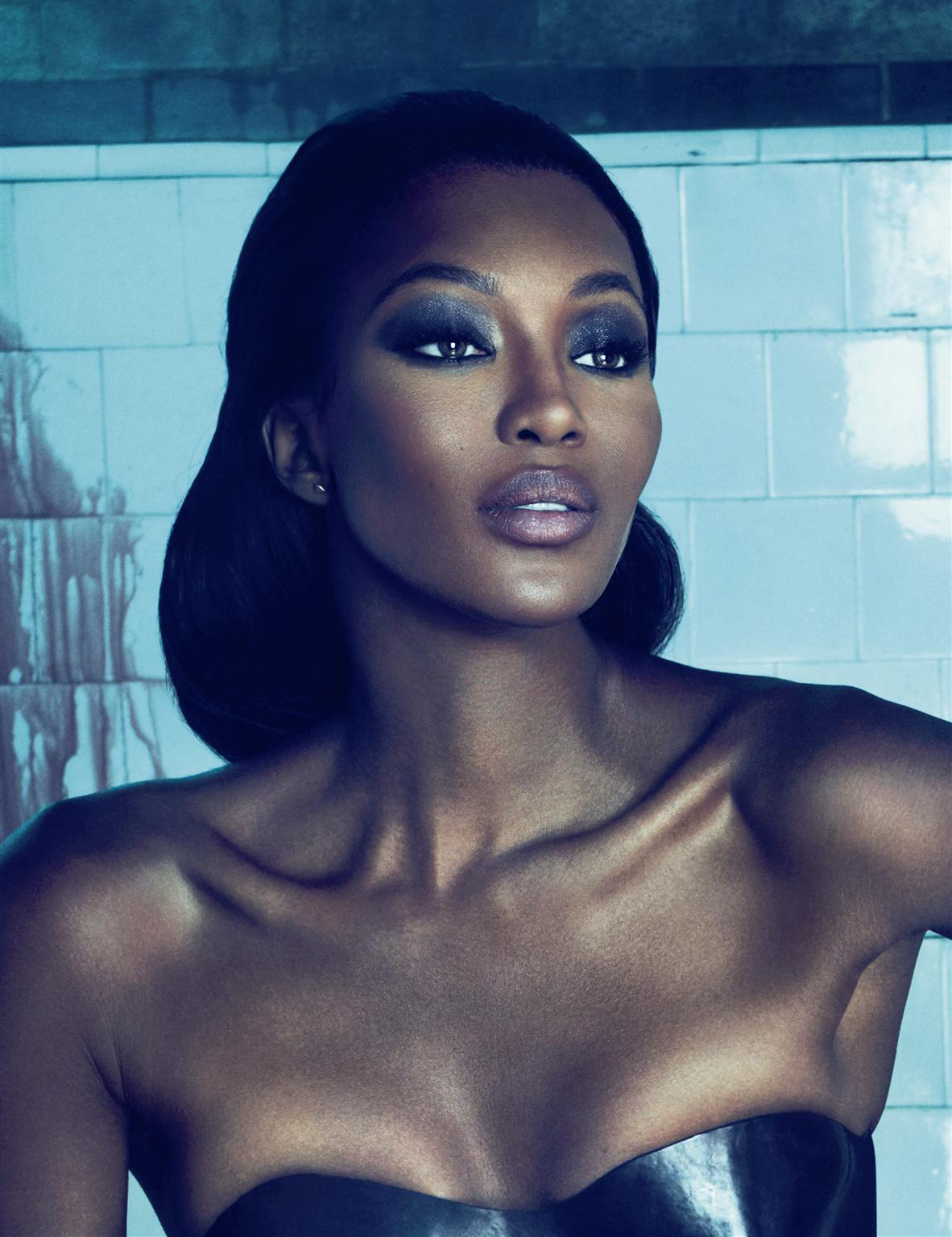 These are photos from Naomi Campbell's cover shoot for the October issue of Interview Magazine. The actual interview was conducted by Tony Shafrazi, an art gallery owner and someone who seems like a close friend of Naomi's. I say "close" when what I mean is "she didn't beat him during the interview." Anyway, there photos are… kind of wrong. The cover shot (above) is lovely, truly, and Naomi is still a beautiful, STRIKING woman. But the rest of the photos – they posed her a male model who was made up to look like a half-dead Russian mobster. Um… who styled this junk? The full Interview piece is here, and here are some interesting highlights:
Naomi on fame and Robert DeNiro: "I was always told a long time ago by a mutual friend of ours, Bob [De Niro], to avoid being famous just for being famous. That's something that has always stuck in my mind. I like to work. It helps if you like what you do. I understand when people complain about their work—they do what they do so they can make a living and take care of their families. So I am grateful to be doing something that I like. I also got to be around the group of beautiful women I came into this business with—Linda [Evangelista], Christy [Turlington], Cindy [Crawford], Tatjana [Patitz], Stephanie [Seymour], Claudia [Schiffer], and Helena [Christensen]."

On the 1980s supermodels: "You know, none of us ever cared about this word supermodel. It was just a kind of terminology that the press came up with for whatever reason. But what we did like was being together. We were very supportive of one another, my group of girls, and I don't think that happens so much nowadays. We were all doing shows in each country, working nonstop, but it didn't matter, because we enjoyed being together. We would all have our rooms next to one another—it was like a dorm on tour. Even if we were always in fittings until one or two o'clock in the morning, we didn't care, because we felt like we were part of something. We used to shoot all night in Paris—couture with Patrick Demarchelier. There's only one of each couture dress, and they have to go around to every magazine, so we'd be waiting—sometimes for hours—for a dress to arrive. But as long as we had good music, nobody said they were tired. Nobody cared. So I'm happy that I got to be around such a great group of ladies. Don't get me wrong, it was hard work. But it was also a lot of fun—and I didn't feel alone. Those ladies still look amazing today. Time has gone by, but they still look amazing."

On Carla Bruni: "I don't like to discuss private events or matters, because, naturally, I respect people's privacy, but I've always loved Carla. She's an amazing woman. She has always been a great friend to me—and a great confidante. She's always had this elegance about her, as far back as I can remember. We travel a lot, so we don't get a chance to see each other that often, but we do try to stay in touch whenever possible… I love the way that President Sarkozy speaks about Carla. It's wonderful to see someone speak about their wife with such love, admiration, and pride."

On moving to New York, and her friendship with Christy Turlington: "Well, Christy had said to me, "You know, why don't you come and be my roommate?" I went back home and moved to New York later that year to live with Christy. We lived downtown, in SoHo. Honestly, for me it was a blessing to have a friend like Christy. I was so indebted to her for so many things. You know, when I was younger there were certain designers who hadn't used models of color in their shows, and Christy and Linda said to them, "If you don't take Naomi, then you don't get us." My friends and comrades stuck up for me—and that doesn't happen in fashion. I will never forget that. I don't forget what people do. No matter how many years go by, I always remember."

On being a black model: "There are always obstacles in life, and even if I did see obstacles, I never looked at it like, "Okay, we can't achieve what we wanted. We can't achieve what needs to be achieved." I'd look at whatever obstacles were in front of me and find the people who could help me overcome them. Patrick Demarchelier was the one who got me my first Vogue cover. It was French Vogue—I think in '87 or '88. I think I was the first black model to be on the cover of French Vogue, which was shocking to me because when I asked them about it, they were like, "Oh, no. We've never had that before." And I was like, "Oh, really?" I remember one time I went to Australia. I don't know if this is true or not, but the editor in chief of a magazine there told me that she got fired for putting me on the cover."

On testifying at The Hague at Charles Taylor's war crimes tribunal: "Well, I think most people—most intelligent people—understand that it's a case that has been going on for a few years. But for some people it seemed like all of the sudden it was brought to their attention. Why? Because I had to go testify? I mean, I did the best I could there with my knowledge and what I could remember. They were asking me about things that happened 13 years ago . . . Okay, I said one word—that it was inconvenient—and that was wrong, and I take that. But I wasn't saying . . . Someone asked me, "Are you nervous to be here?" I think anyone in the world would be nervous to be there! And then someone called me an idiot for not knowing where Liberia was . . . Many of my friends in 1997 had never even heard of Liberia. You know, I felt like I was on trial myself—and this was not my trial. I don't condone what this man has done. I don't condone what anyone does in being responsible for the deaths of kids and families and their own people—allegedly, that's what I've read. That's what we've all read. But I just saw the whole thing become a complete media circus. I felt very disappointed that people couldn't really see what was going on. This wasn't about me. This was not my trial. This was his trial. But anyone looking at it would think it was about me… I don't want to say what they did or what they didn't do, but, as I say, it was another experience in my life. I did it to the best of my ability. I do take that I said a word that was taken out of context, something about inconvenience. I accept that that was not the right word to say. But when asked if someone's nervous sitting there, when you've got the whole world—people from Australia, people from Brazil, New Zealand—of course I was nervous! This is not what I'm used to. Being on a runway, doing a fashion show is what I know. Not being on this other platform."

On not being a role model: "Listen, I make many mistakes. Many mistakes. I'm not a perfect human being. I have to learn from my mistakes. And a lot of the ones I've made have been public. So I always get nervous when people speak about something that sounds like a role model, because I don't know if I've been a great role model myself. I don't think I have in certain aspects of my life . . . But I'm trying to do better. I admit to my mistakes. I admit to the things that I've done wrong. I admit it. But I'm trying to do right by myself and my life now. I don't get depressed. When I feel an attack, I withdraw. I disappear, I replenish, and then I come back. I'm not going to wallow in self-pity and not live my life. There are always going to be some falls in life for everybody, no matter what career you have. You have to roll with the punches and keep going."
[From Interview Magazine]
Yeah… I think I'll end it with Naomi's own epitaph: "You have to roll with the punches and keep going." Seriously, Naomi? You're famous for beating people in fits of rage and you're going to talk about "rolling with the punches"? She really has no idea how most people see her, does she?
In the rest of the piece, Naomi does talk a lot about the early days of her career, back in the 1980s, and there's some fun old-school gossip about designers and models and stuff. She also talks a lot about her charity work and Nelson Mandela and even more about Robert DeNiro. Here's a question: did Naomi and DeNiro date? Because she talks about him like he's an ex-lover that she's still hung up on. Interesting…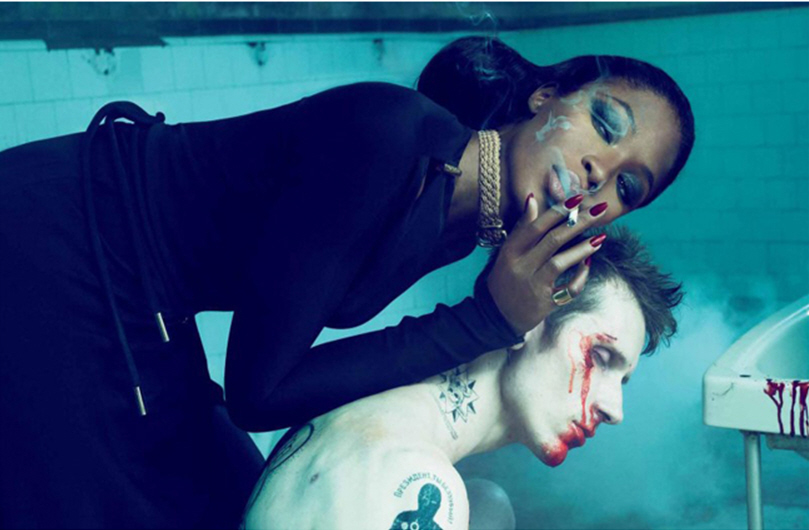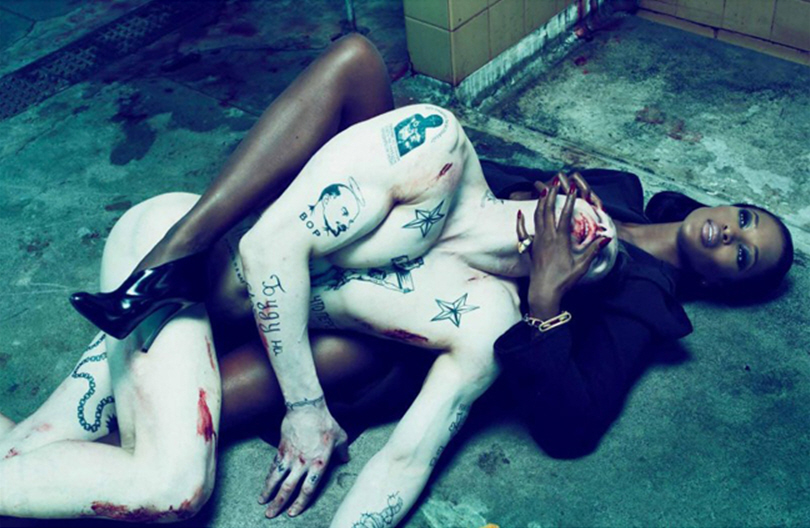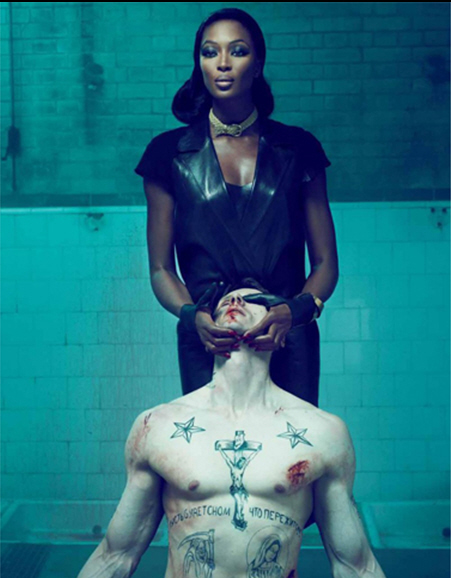 Interview Mag photos courtesy of Styleite.