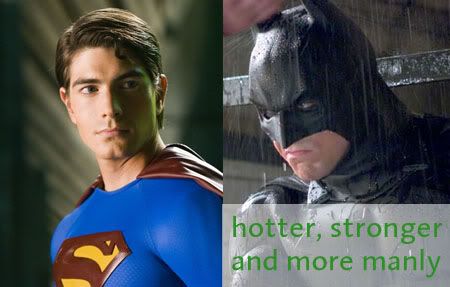 I finally got around to watching "Batman Begins" this weekend. (I have a good excuse for not seeing it sooner since I have a two year-old son.) Christian Bale is incredibly hot, and I loved the movie. It was gritty and quite entertaining. Plus it really was enjoyable to stare at Christian Bale for a couple of hours. It got me thinking about Brandon Routh and how everyone is saying the new Superman is effeminate. Of course I'm not the first one to make the comparison between the new movie superheroes. Christian Bale himself made a reference to Superman in his acceptance speech for "Best Hero" at the MTV Movie awards :
The cast of upcoming summer superhero flick Superman Returns was on stage to present an award for Best Hero. The award naturally went to Christian Bale for his performance as Batman in Batman Begins, and when Bale accepted the award from the hands of Brandon Routh he good-naturedly commented "Sorry Superman, but Batman is the bada**." He went on to promise the audience there will be more Batman flicks, and called his wife Sibi Blazic "my personal Wonder Woman."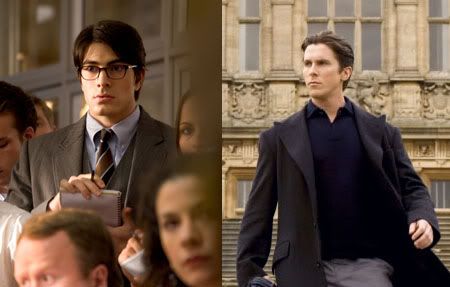 Superman's civilian character is a lot dorkier than Batman's alter ego, which could explain the new Superman's gay/metrosexual vibe. Clark Kent is a "mild mannered reporter" who grew up in the Midwest (*cough* dork *cough*) while Bruce Wayne is a billionaire playboy who spent time in a Chinese prison camp.
Christian Bale, 32, has been married to celebrity assistant Sandra/Sibi, Blazic, 36, for six years. They met on the set of "Little Women" where Sandra was Winona Ryder's personal assistant. They have one child, a daughter born in March, 2005.
Brandon Routh, 26, has been plagued by rumors that he's gay since he's so well coiffed and everything, but has a longterm girlfriend, television actress Courtney Ford.
Routh and Bale are each hot in their own way, but my money would be on Batman in a fight. (Which I would pay dearly to see – if they both were naked.)
Note: I wrote this over the weekend and had it saved for a friend to publish for me while I am on vacation the second half of this week. I noticed that this is a hot topic at the JJB board, though, and thought I would publish it sooner. I did think of this myself, although it may not seem entirely original.
Here are pictures from "Batman Begins" and "Superman Returns" as well as some pictures of Routh and his girlfriend at the "Superman Returns" premiere, and Bale at "The New World" after party in January, 2006. [via] and [via]