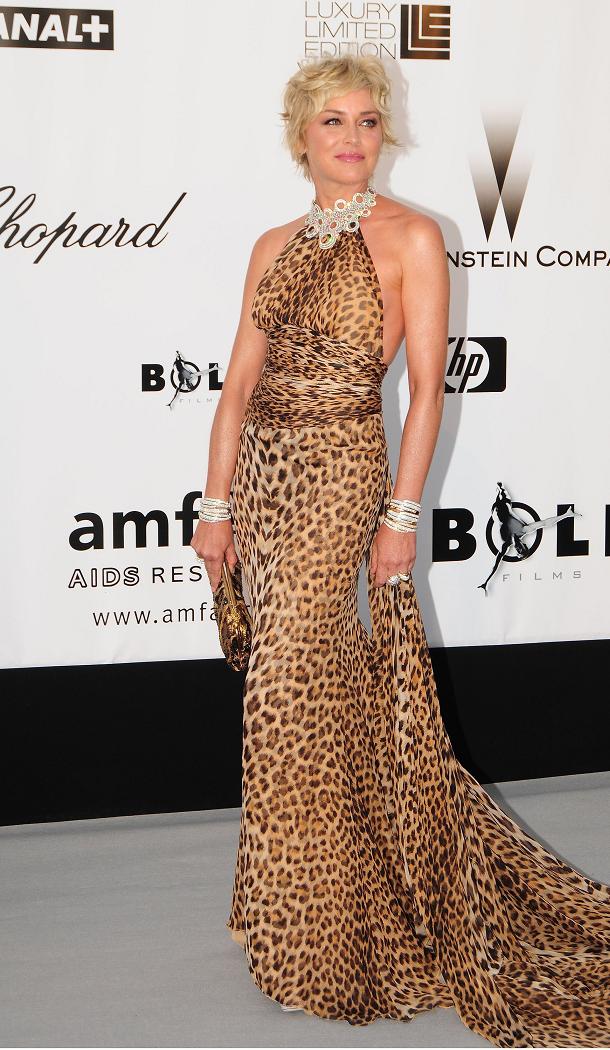 Update: Comments are closed
---
Sharon Stone continued her legacy of incredibly idiocy today. And it really is a legacy. The woman is constantly saying and doing such moronic, disgusting, terrible things that you think she can't possibly top the last debacle… and then she does.
Two weeks ago a massive earthquake hit the Chinese province of Sichuan. 88,000 people are dead or missing. 80% of the buildings have been destroyed. Several schools were leveled, trapping and killing thousands of schoolchildren. The entire thing has been nothing but devastating. So how does lovely Sharon Stone respond? By saying that the Chinese brought it on themselves. You know, the poor villagers and children.
"I'm, you know, not happy about the way the Chinese are treating the Tibetans, because I don't think anyone should be unkind to anyone else. And so, I have been very concerned about how to think and what to do about that because I don't like … that. And then I've been, this, you know, concerned about, oh, how should we deal with the Olympics, because they're not being nice to the Dali Lama who is a good friend of mine. And then all this earthquake and all this stuff happened, and I thought, is that karma? When you're not nice that the bad things happen to you?"
[From WWTDD]
I'd really like to know where your karma is, Sharon Stone. Because you're a legendary bitch. So exactly what should befall you? And by the logic that the Chinese government isn't nice, thus bad things happen to the Chinese citizens, should bad things happen to your family because you're one horking bitch?
Something tells me that Sharon's "good friend" the Dali Lama isn't her great friend right now. What with the whole "being decent to other people" thing that he's a big fan of. Aside from her unsightly crotch flashing – and speaking of unsightly atrocities, making us look at her face on the whole – Stone's other incredibly offensive statements include her mentioning that women who thought they might be raped should offer the potential rapist a beej instead.
I'm all for free speech. But at some point, there should be consequences for saying terrible things. I'm not even saying they should be legal consequences – but maybe everyone refuses to go to your crap-ass movies or give you a dime of their money, and you eventually end up living in a cave and being eating alive by rabid bears. During an earthquake. Because of your bad karma.
Click here for a list of legitimate websites where you can donate money towards Earthquake relief.
Update by Celebitchy: Due to the urgent need in Sichuan province after the devastating earthquake, and Sharon Stone's highly offensive statement, along with some of the ignorant, dismissive and arguably heartless comments here, we have donated $1,000 to the Half The Sky Children's Relief Fund through Global Giving. Please rest assured that the comments here do not reflect the opinions of the people who run this site at all. Rather than continuing to argue about this, we recommend you donate whatever you can afford, even a small amount, to Global Giving. After hearing about this horrible disaster I wanted to do something to help. Thanks to Sharon Stone and the others who called her comments justifiable for helping us remember what's important in life.
---
Update
: Comments are closed
Header photo of Sharon Stone at amfAR's annual Cinema Against AIDS gala at Cannes on Thursday. Images thanks to WENN.