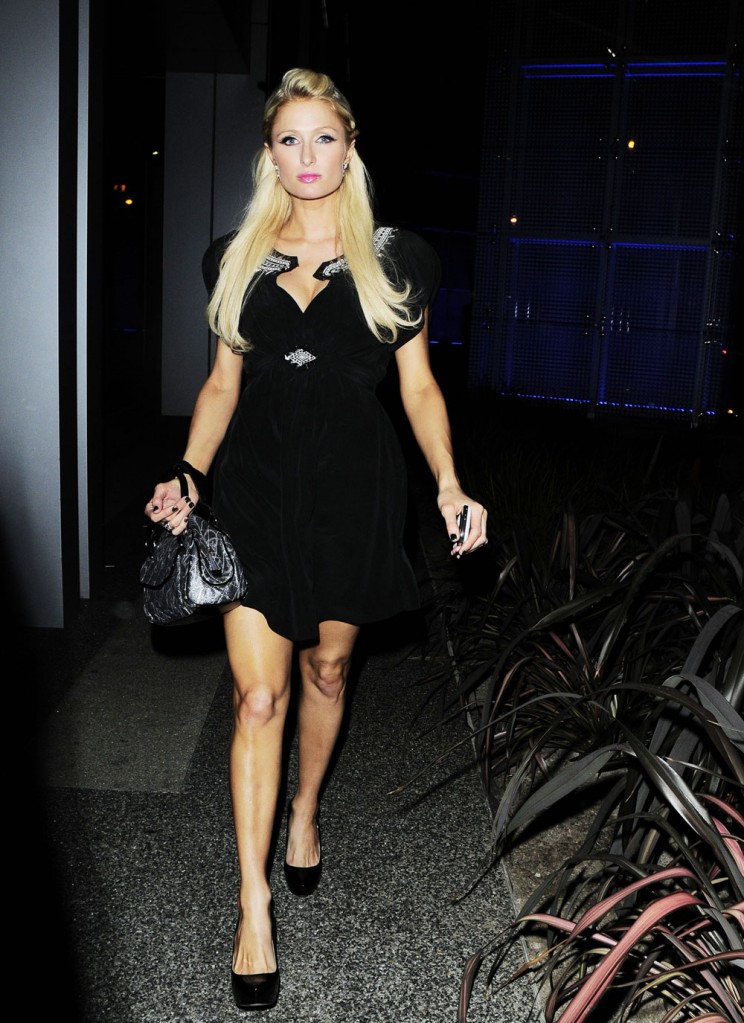 Paris Hilton was firmly seated on the passenger side when her boyfriend, Cy Waits, ran over a female photographer's leg with his car and left the scene. Waits reportedly gunned the car to get away from a swarm of paparazzi when he hit someone. Radar Online has a video and it doesn't look like the accident was Waits' fault, to be honest. He was just lurching his car along trying to get away when he hit the woman. That part is at :45 seconds in.
To be fair he did stop and ask her if she was ok, the woman said "yes" and that's when he left. Paris later tweeted about how the paparazzi "ruined" her evening. She wrote "Lovely evening with friends and family ruined by aggressive paparazzi. They are literally insane!" Then why did she go to a restaurant where they're known to frequent? I'm sure her boyfriend ruined more than that woman's evening when he ran over her damn leg and left the scene.
Hilton and Waits — arrested in Las Vegas just last month — were involved in an alleged hit and run accident outside of swanky Boa restaurant in West Hollywood, CA. on Wednesday night.

Video of the incident clearly shows that Waits was behind the wheel of his Bentley when he ran over the leg of a photographer, only identified as 'Carol'.

The car was surrounded by paparazzi when an eyewitness says Waits "gunned" the car and hit the woman, who was knocked to the pavement.

The video shows Waits rolled down his window and asked if the pap was OK, to which another photographer responded, "yes" and told him to go.

Waits and Hilton then left the scene of the accident, but then on the video, you can hear someone yelling, "hit and run… hit and run."

Police were called to the scene and were later seen questioning Waits, and giving him a field sobriety test.

Authorities tell RadarOnline.com that Waits was "detained", but later released. At this time, no charges have been filed in the case, as police continue to investigate.

Paramedics were also called to the scene of the accident, and they transported the woman to the hospital for treatment for a cut on her right shin.
[From Radar Online]
I was ready to condemn Waits for this, but it looks like it could have been a mistake if you watch the videos on Radar and TMZ. I guess he turned right unexpectedly, but it didn't look to me like he was gunning the car or was deliberately trying to hit someone as a paparazzo claims afterwards in that video on Radar. He was driving the car slow and lurching along, not gunning it. The photographers were surrounding it and harassing him and Paris. I hate that I'm defending either one of them, but it's not like they were trying to hurt anyone and it didn't look to me like the guy was driving recklessly. He should have stayed there and waited for cops, but he did return afterwards at least. And I was hoping Paris was driving and would get sent to jail. Maybe that will happen next month, as in October.
Paris is shown out on 9/29. Credit: Fame