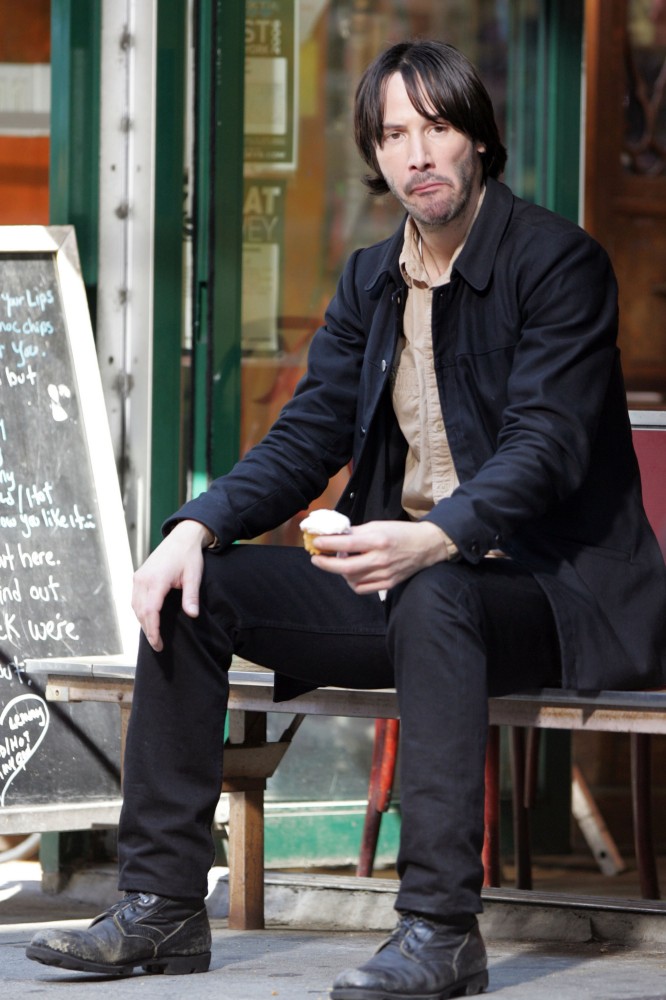 Only recently (like, the past two weeks) have I become aware of the "Sad Keanu" meme that has apparently been around for months. I guess it all started when paparazzi took photos of a particularly sad-looking Keanu sitting on a park bench, looking like he might cry because the wind was blowing. Many people Photoshopped the image of "Sad Keanu" into something really special – see some of this stuff here. There's a "Sad Keanu" Tumblr, and lots of new sites and lists devoted to Sad Keanu. Since then, paparazzi have gotten many, many candid shots of Keanu looking sad or contemplative or thoughtful, or just hungry. He honestly seemed totally unaware that photographers were trying to get another "Sad Keanu" photo – and as it turns out, he really was unaware. He spoke to Vulture, and he took it all in stride:
You're taking over the Internet. Have you seen all the "Sad Keanu" stuff out there?
My publicist showed me the photo, but no.

There's not one photo. There are millions. You're Photoshopped next to kittens and into Pulp Fiction and next to the cast of The Breakfast Club, and in a million different ways. Have you seen those?
Oh, that's funny! No, no, I haven't seen them.

There are millions, really. Google "Sad Keanu." You haven't?
[Laughs.] No.

Seriously, though, this is one of the reasons I think one of the big appeals of you as an actor is that people are always straining to figure out what's on your mind, what you're thinking, why you're sad … There's thousands of people doing this.
Wow. So, what, now they're putting me next to other objects?

Yes! For instance, right now I'm looking at you in some Banksy graffiti, you next to a panda.
That's so funny.

You with a cheerleader, but you don't notice her …
Oh, that's funny. So they like take paparazzi pictures and re-contextualize them? Funny.

Exactly.
Well, it sounds like harmless, good clean fun.

What do you make of how your fandom is changing?
I don't know, I haven't seen it. That one, well, I guess, though, when you think of how bad that stuff can go, that sounds like a pretty good clean fun one to have happening.

Given the options …
Yeah, I haven't seen them. But given the scope and scale of what can happen out there, that sounds like an all right one. It sounds conceptually funny. [Laughs.]
[From NY Mag/Vulture]
God, I love Keanu. He really does seem like an easy-going sweetheart, doesn't he? And I f-cking love that he asked, "So they like take paparazzi pictures and re-contextualize them?" He's so smart!
Anyway, the full Vulture interview is nice – Keanu talks about past and present work, and is generally humble and kind and nice. Lovely man!
Thanks to Dlisted for the tip!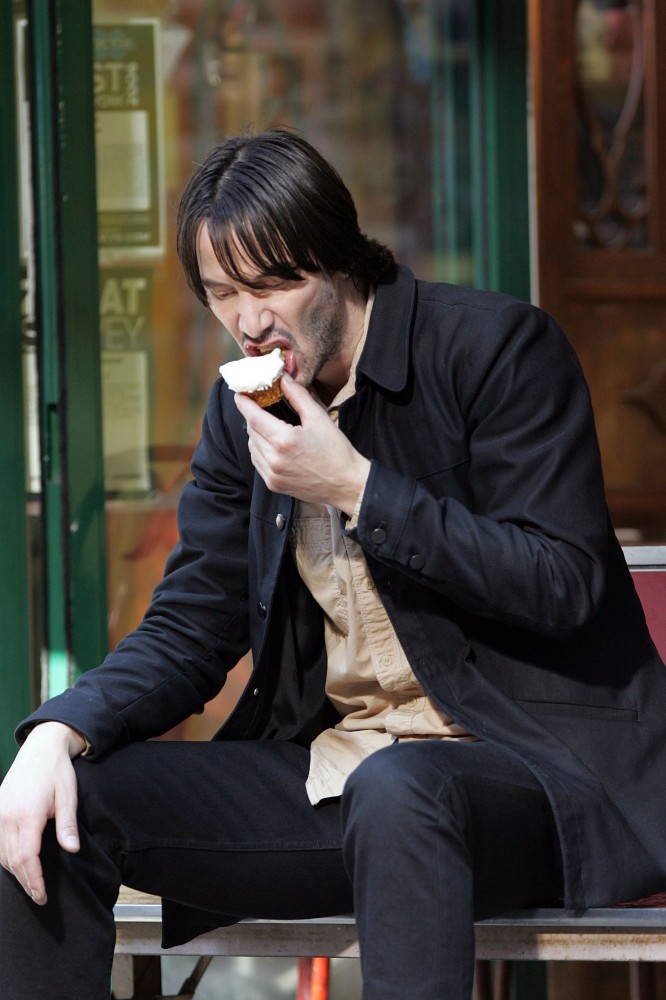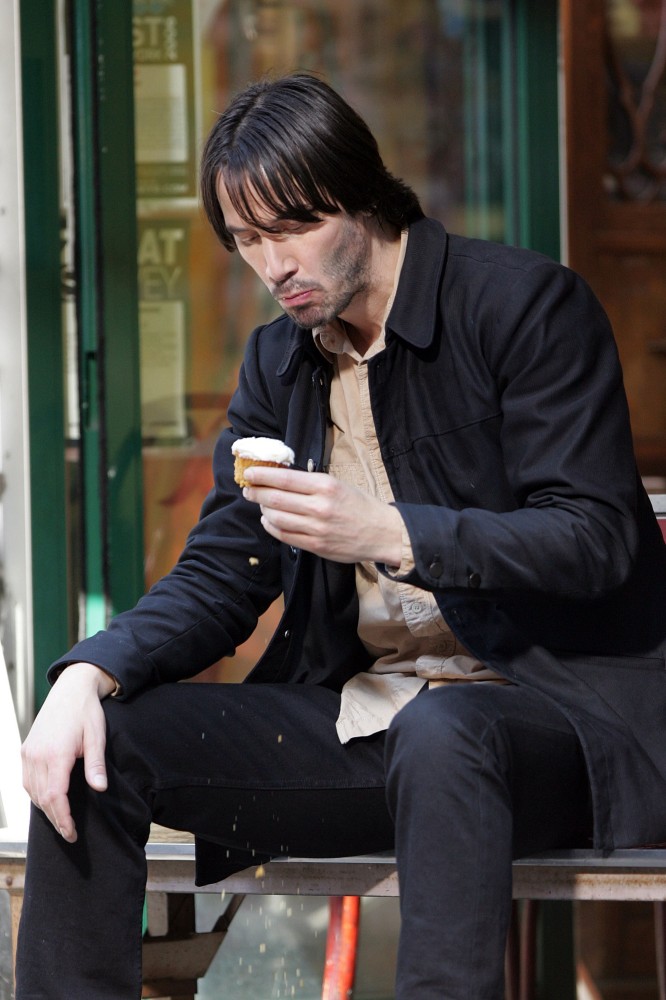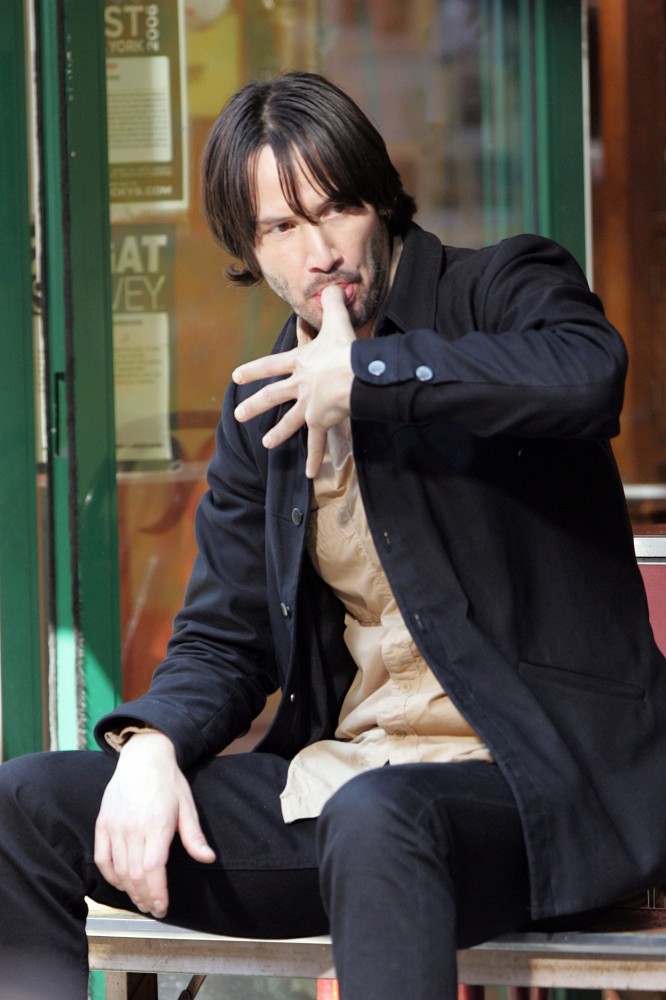 Keanu in NYC on Sept. 22, 2010. Credit: Bauer-Griffin.