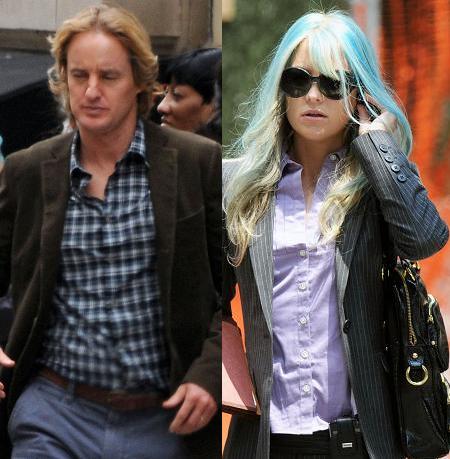 According to OK Magazine, Owen Wilson isn't handling his breakup with Kate Hudson very well. The actor tried to commit suicide last summer after the pair broke up for the first time and Wilson saw photos of Hudson kissing Dax Shepard. He went through a lot of treatment and stopped drinking and seemed to be doing really well. Needless to say, their friends and families weren't so wild about the pair rekindling their romance. When it fizzled out again a few weeks ago, everyone seemed optimistic that the pair could handle it well.
However Hudson immediately started dating Lance Armstrong, who was one of Wilson's good friends. Owen has recently been spotted drinking heavily in several clubs, causing those close to him to worry that he's slipping back into his old habits.
Kate Hudson and Lance Armstrong are still going strong with their new romance, but one person who's not as happy about it is Owen Wilson.

The actor, who went officially off-again with Kate a few weeks ago, isn't taking his ex's rebound relationship too well, according to clubgoers who spotted him at club G in Philadelphia.

"Owen looked pretty upset," an eyewitness tells OK!. "He was drinking and sulking until last call."

Besides drowning his sorrows in alcohol, the 39-year-old, who attempted suicide in August following his split with Kate, has turned to little brother Luke for support.

"Owen's been spending time on the phone with Luke," a Marley & Me set source tells OK!. "There are a lot of people making sure they're there for him."
[From OK! Magazine]
Several of their friends have said they assumed Owen would break Kate's heart, and were genuinely surprised that it was the other way around. It makes you wonder if Kate is dating one of his friends out of spite. Though considering their past, let's hope that's not the case. By all accounts Owen has a great family and really close friends. It's good he's leaning on them. Hopefully they can get him away from drinking and back on the straight and narrow quickly.
Photo Kate Hudson (on the set of her upcoming new movie 'Bride Wars' filming in Manhattan yesterday) and Owen Wilson (on the set of 'Marley and Me' in Philadelphia) on May 14th. Images thanks to WENN.