I always assumed that Lisa Rinna's lips were unfixable. Like she had some nasty stuff injected into them, it settled and there was no getting that crap out of there. I didn't think she had, like, lip implants but rather some sort of noxious fluid that made them swollen. She admitted as much last year, when she was promoting a self help book called Rinnivation. She said she had silicone injected into them in 1986, that the silicone hardened and caused scar tissue and that she needed cortisone injections to treat it. Lisa recently underwent a surgical reduction of her lips, and she says that she really likes the results and is just waiting for the swelling to go down. She's promoting yet another book, a novel called Starlit about a soap star. Lisa of course starred on Days of Our Lives and Melrose Place. Here's People's report on her procedure:
She swore she'd never touch her infamous pucker again, but on Aug. 26, Lisa Rinna did just that – surgically reducing the size of her upper lip.

"My lips started to define who I am," Rinna, 47, tells PEOPLE about why she decided to undergo the procedure. "That bothered me."

Public reaction to her plastic surgery confession last year also upset her. After finally admitting that in 1986 she had silicone injected into her upper lip – an impulsive decision she made with a girlfriend and likens to getting a tattoo – Rinna says, "I took a big hit for being honest. It gave everyone online permission to lambaste me. It hurt my feelings."

Now, the star of TVLand's upcoming reality show Harry Loves Lisa (with husband Harry Hamlin) – as well as the author of the new novel Starlit – is ready to keep a stiff upper lip about her new upper lip. "It doesn't matter what other people think," she says. "I did it for myself."

As a result of the procedure, she says, rather than feeling "bumpy and uneven … my lip has no lumps! It's smooth."

But her mouth is still swollen from the procedure and will require six months to heal fully. "It's a work in progress," admits Rinna, "but I feel fantastic."
[From People]
I guess the question is – what took her so long? Has plastic surgery science advanced so much in the past few years that this kind of procedure is now simpler with less risks? I googled this, and found an answer by a plastic surgeon as to whether this is possible. Dr. B Pat Pazmino writes "Silicone melts into your tissue and infiltrates all layers of the skin that has been treated. This makes it extremely difficult to remove after the injection [to the lips]. Your best bet is to work with a board certified plastic surgeon who will be able to place any incisions necessary into the least noticeable areas of the lip." That sounds painful. No wonder Lisa waited so long. Also, doesn't she look a little like Heidi Klum in that "after" photo above without makeup?
The first two photos below are from a video on TVLand's website where she's announcing that her new reality show with husband Harry Hamlin will air this Wednesday. She says it's premiering "tomorrow" so these must be her new lips. They do look slightly better although her lips are still huge. They're not all sagging downward like they were before, and that's an improvement.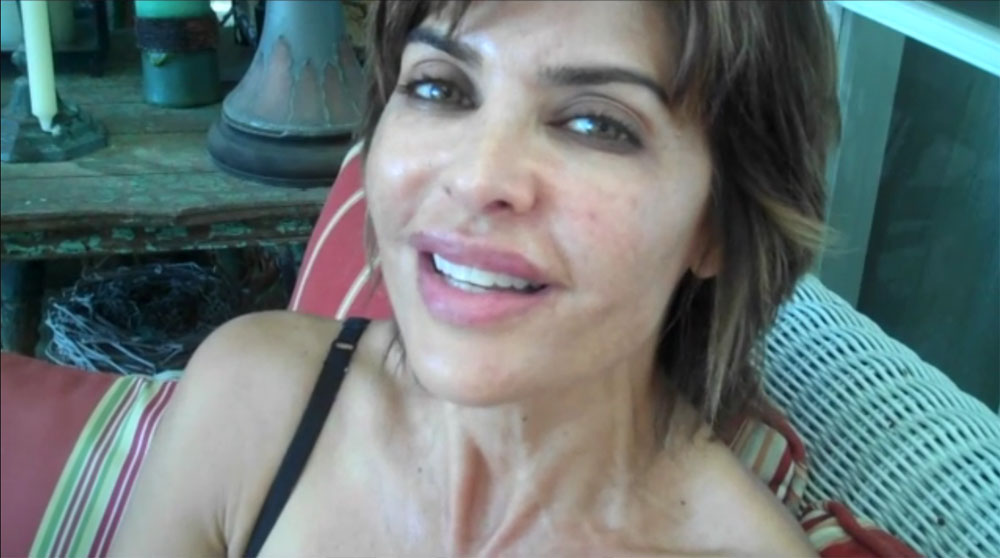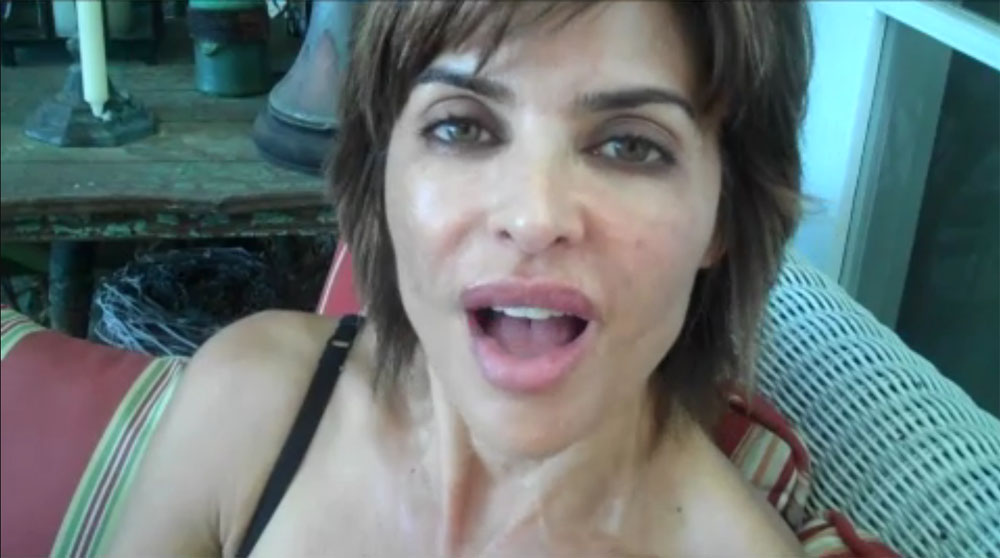 Lisa before on 4/17/10. Credit: WENN.com.