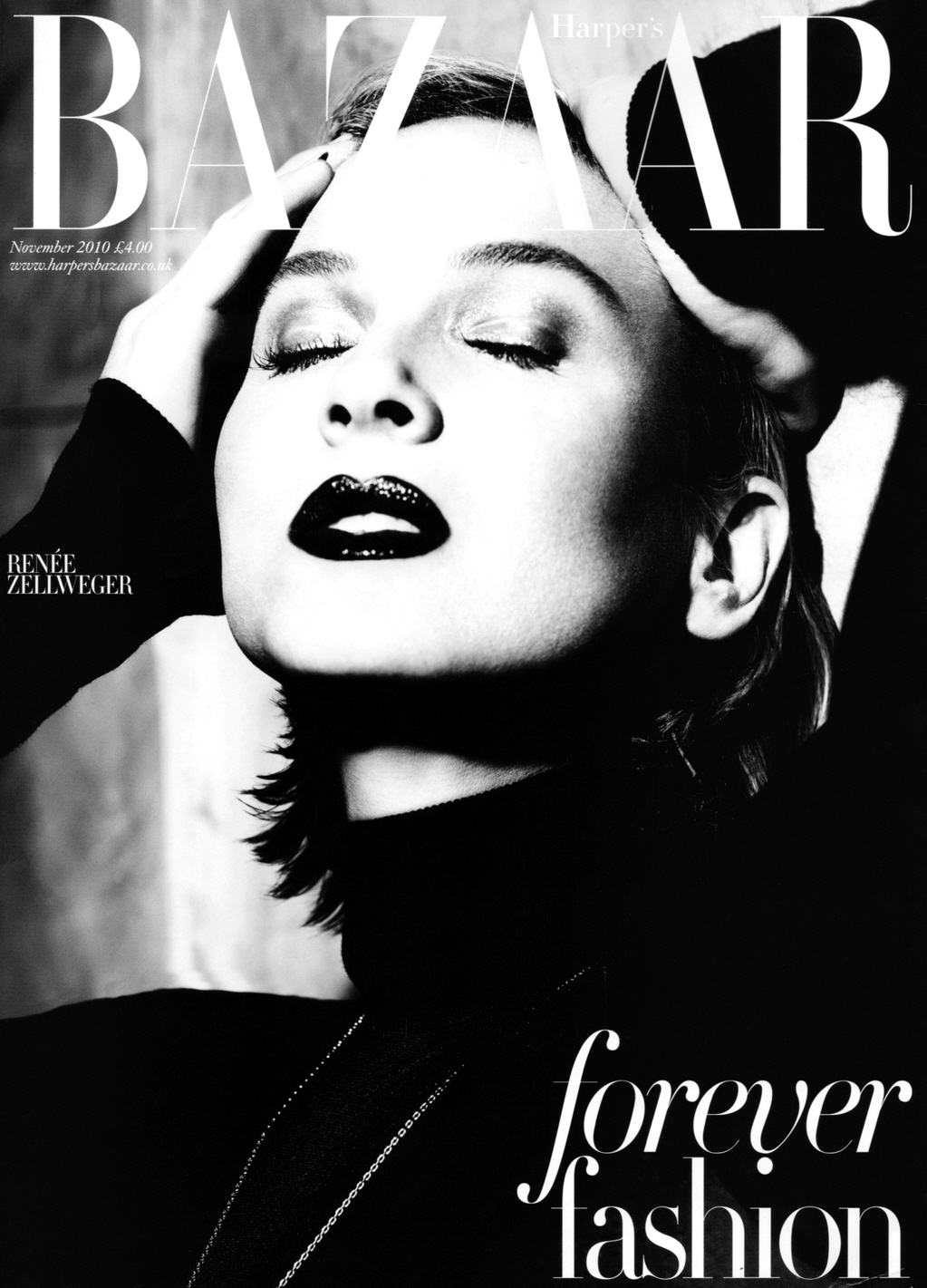 This is the new cover from Renee Zellweger's photo shoot for the November issue of Harper's Bazaar UK. She looks… stunning. And I had no idea who it was. Isn't the idea to look like a more stunning version of yourself? Maybe it's the black-and-white that is throwing me off – most of Renee's photo shoots are usually in color. Also, Renee gave some interesting quotes in a recent interview, and I think this may be from her Harper's interview. Apparently, Renee wants to tell all of those bump-watchers and busy-bodies (me) to back off. She says that motherhood "has never been an ambition" for her and that she doesn't care if she ever becomes a mother: "I never had expectations like… 'When I'm 19 I'm going to have done this, and by the time I've hit 25 I'm going to have done that.'" Golf applause for Renee – if she really said this, then good for her. I love when celebrity women simply talk about their lack of desire for the Mini-van dream. Renee and Cameron Diaz get an A-plus.
Anyway, there's some interesting gossip floating around about Renee these days. Like this rumor, that is picking up steam: Renee in The Hangover 2? Could be:
Hollywood star Renee Zellweger is reportedly in talks to take on a role in boyfriend Bradley Cooper"s new movie "The Hangover 2".

The 41-year-old actress, who is believed to have been dating the actor since last year, is interested in taking on a role in the sequel to the hugely popular comedy, Contactmusic reported.

"Renee loves the first movie and this just gives her and Brad a reason to hang out together on set. The funny thing is Renee looks like playing a girl the guys meet and one of them has a one-night-stand with her – only it''s not Brad''s character!" said a source.
[From MSN]
Eh. And apparently the sequel takes place in Thailand. Yeah… because this is Bridget Jones 2. Right?!? But it might be the kind of career re-boot that Renee needs – Movieline made up a list of 7 Ways Renee Can Reclaim Her A-list Standing. One of the suggestions is to talk a funny quest spot in a comedy television show – but I think a supporting part in a comedy sequel film would qualify too.
Cover shot courtesy of The Fashion Spot.