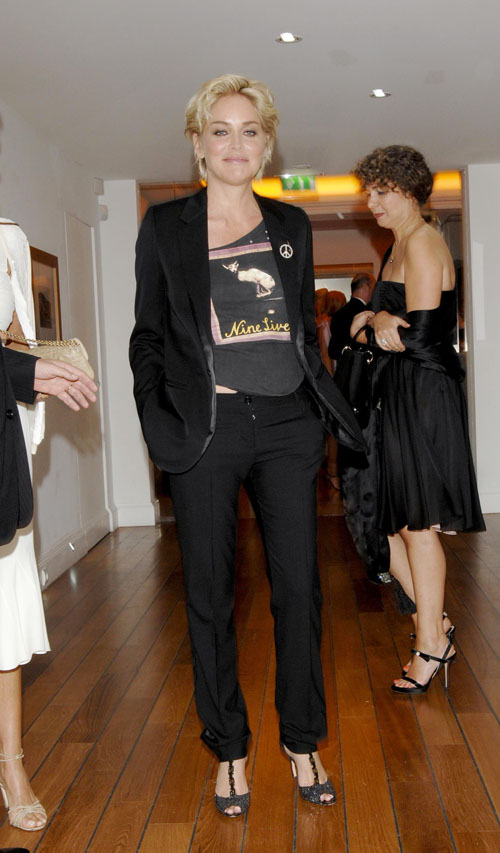 Sharon Stone has issued an apology for her ignorant and obnoxious remarks about the Chinese earthquake. She was asked on the red carpet at Cannes what she thought of the crisis in China and she got really haughty about it. Instead of focusing on the terrible humanitarian crisis there or even mentioning the fact that tens of thousands of people are dead with thousands more missing, injured and homeless she said "You know it was very interesting. At first I'm not happy about the way the Chinese are treating the Tibetans, because I don't think anyone should be unkind to anyone else… And then all this earthquake and all this stuff happened, and I thought, is that karma?"
The news came out Monday and Stone finally issued an apology that was released today. At least she apologized and said she was deeply sorry, not something like "I regret if people were offended." The way she's following up on it sounds kind of half-assed. She said she was "willing" to do charity work. She didn't pledge money or say she had arranged to work for a charity, she just said she was "willing" to. It's something I guess and maybe she didn't have time to make specific plans yet.
"Due to my inappropriate words and acts during the interview, I feel deeply sorry and sad about hurting Chinese people," the actress, 50, said in the statement. "I am willing to take part in the relief work of China's earthquake, and wholly devote myself to helping affected Chinese people."

Christian Dior — which released the statement from the actress — also dropped her from its Chinese ads after her remark last week at the Cannes Film Festival.

Stone (a staunch Tibetan rights advocate) had tied the natural disaster — which has claimed at least 65,000 lives — to Beijing's policy on Tibet.
[From US Weekly]
There could have been more groveling in there, but it's not a bad apology as far as they go. I was looking for a large monetary donation from Stone, but her money is probably all tied up in furs and jewelry and it's not like she's getting a lot of work lately. She could auction off some of her luxury items for the affected Tibetans, if she only cares about them and not the rest of the innocent people affected by this horrible natural disaster. Saying she's willing to help is a start I guess. When she's down on her knees sifting through rubble and helping cleanup efforts, that's when I'll consider her apology sincere.
Sharon Stone is shown at the Dior and Elle evening dinner at Cannes on 5/23/08, thanks to WENN.