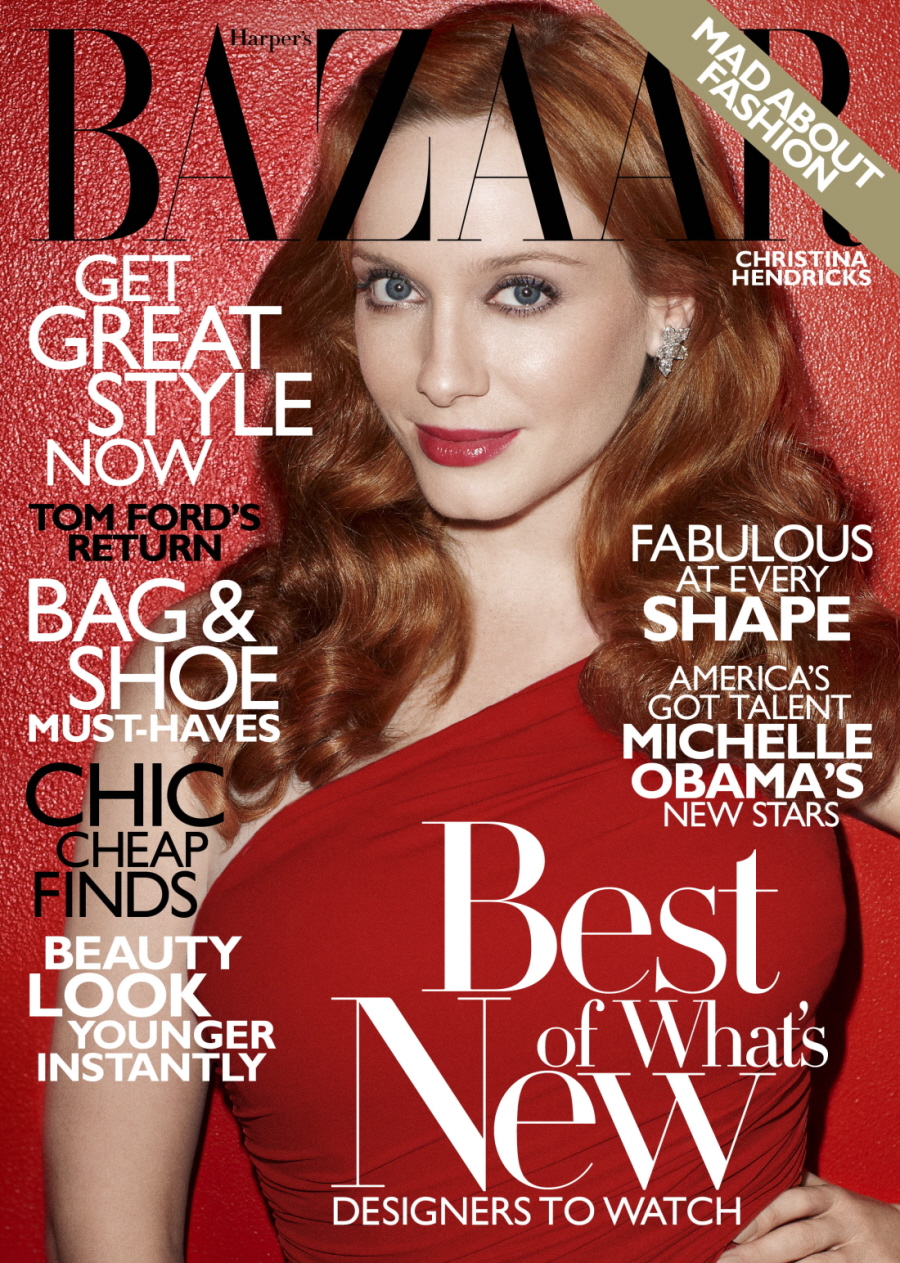 Bless it, I do love Harper's Bazaar. They've been doing some interesting features and photo shoots lately, and I wanted to love Christina Hendricks' November cover shoot. But Bazaar fell into the same trap that other magazines have fallen into when styling Christina – they have no idea what to do with a busty, curvy, pale redhead, and Christina ends up looking deathly and corpsey. That being said, A-plus for putting her on the cover and getting her into some interesting designer clothes. They even put her in some menswear styles – very interesting. The full slideshow is here, and the full Bazaar interview is here. Here are some excerpts:
CH on her appeal: "Women hit on me," she chuckles. "My husband thinks it's so odd that so many women hit on me." Gay men too. "They say to me, 'Well, I'm not straight, but if I was…' I think it's so flattering."

On the Joan character: When Christina, 35, originally auditioned for Mad Men, she was up for the part of Midge, Don Draper's bohemian lover. She ended up being cast as the "bossy, know-it-all" Joan. The character has become something of a cult figure, due to Christina's measured, artful performance and, in no small part, her now-famed Joan walk—an exaggerated, saucy sway that accelerates heartbeats as much as it stops traffic. "All the costumes were so tight," Christina explains of the Walk. "I wasn't used to the undergarments, so my natural swing became more of a swing. After I became conscious of it, my hands came up too." While Joan has a peanut-brittle exterior, inside she's all caramel. "Joan would probably have rules like 'To be a polite guest, eat all but the last two bites,'" Christina—whose voice in person is a fairylike tinkle and in a higher register than Joan's—says, laughing, as she cleans up her gnocchi. "You'd want to make sure that your host knew you enjoyed the meal, but you want to be a lady." Joan's retro rules have spawned a satirical blog, What Would Joan Holloway Do?, and the ultimate validation, her own Barbie (with curves that are actually anatomically possible).

On her curves, and being a curvy role model: "When the attention started to be about my figure, I was surprised, because it wasn't something I was focused on. And then it became very positive, and people were saying very nice things." During Mad Men's first season, she and Arend were at dinner when a fan approached her and said, "'Excuse me, I just want to tell you that I watch your show, and you make me feel better about myself. I am a curvy woman, and you've made me feel sexy and beautiful.' I got teary eyed." Christina tears up again at the memory. "I remember Geoffrey saying, 'That's what you're doing for people. That's amazing.' And I said, 'I'm just trying to be a good actress and trying to tell a story, but if this is the sidebar, all this positivity, then that is awesome.'"

On being attacked as a "big girl in a big dress" at the Golden Globes: "To say something like that and put it next to a distorted picture discredits you entirely," Christina says. "And it hurt my feelings. I thought that dress was stunning. I stand by that dress to this day. I had just gotten back from my honeymoon, and I felt beautiful in those pictures. I was smiling and beaming, and I felt like a goddess. It's a celebration, and I'm here because the show I work on is being recognized as excellent work. And you're going to tell everyone in the world that I was wearing a shitty dress? Let me go to a party and wear my pretty dress!"

On wearing designer clothes, but not the sample size: "You are expected to go to these things wearing fabulous dresses that are incredibly expensive, so it gets difficult," she says. "I found myself at the beginning of Mad Men, because I wasn't a sample size, spending an exorbitant amount of money on a nice dress that I would never wear again because someone would say"—she wrinkles her nose theatrically—"'Christina Hendricks wore this dress twice.'"

On her lifelong positive body image: "My mother never said to lose weight. Diets were never a big deal. My mom was always beautiful and voluptuous and curvy, and I always thought she was gorgeous." But puberty had its inevitable challenges. "I did have doubts about my figure when I was 12, 14," she admits. "I was a dancer, but my body was changing. Then all of a sudden I started getting boobs and my body wasn't playing along with my game plan. It got depressing for a bit, because I desperately wanted to be a ballerina."

A really good modeling story: "Oh, I have a story for you," she says conspiratorially. "I was in Milan, and you would see the same girls at castings. There was one girl—she was like, 'I can't get any work. I'm so sick of this, I'm ready to quit. I love your hair color. What do you color your hair with?' and I was like, 'Oh, it's red. Here's my formula.' It was Karen Elson. A couple of weeks later, she had bright-red hair." Christina leans into the tape recorder and says, "Sorry, Karen, but you did ask about my hair color. Then I saw her on the cover of Italian Vogue, and the rest is history!" She laughs. "Karen is amazing. I'm such an admirer of hers." But she's right: It is a good story.
[From Harper's Bazaar]
Most of the interview is Christina talking about her curves and about clothes, which… I mean, I'm a little tired of it, but that's what most women talk about in fashion magazine profiles. Plus, it's interesting hearing from Christina because she is such a positive body-image role model for so many women (including me). Now if we can only get some stylists who know what to do with pale, busty redheads.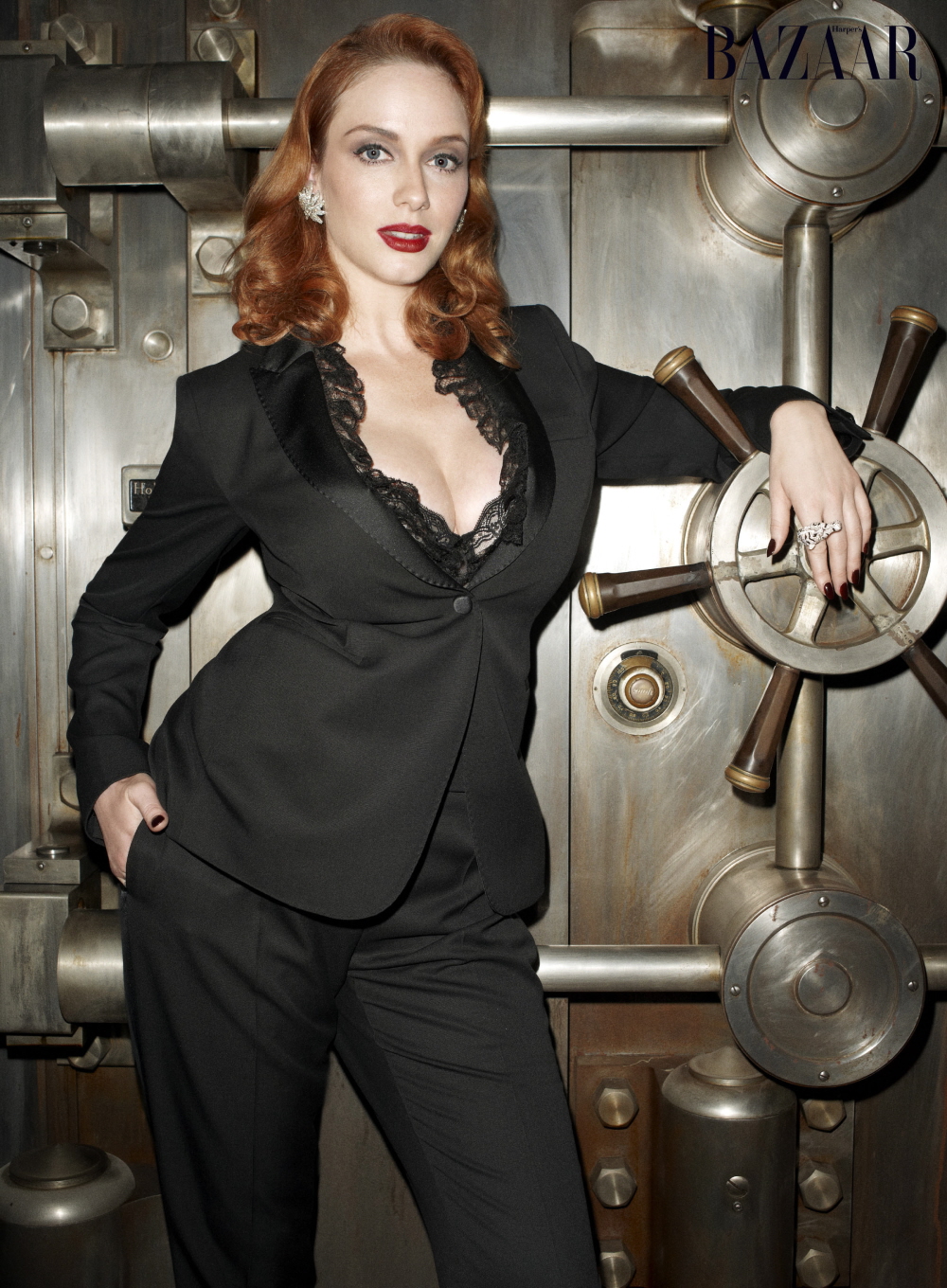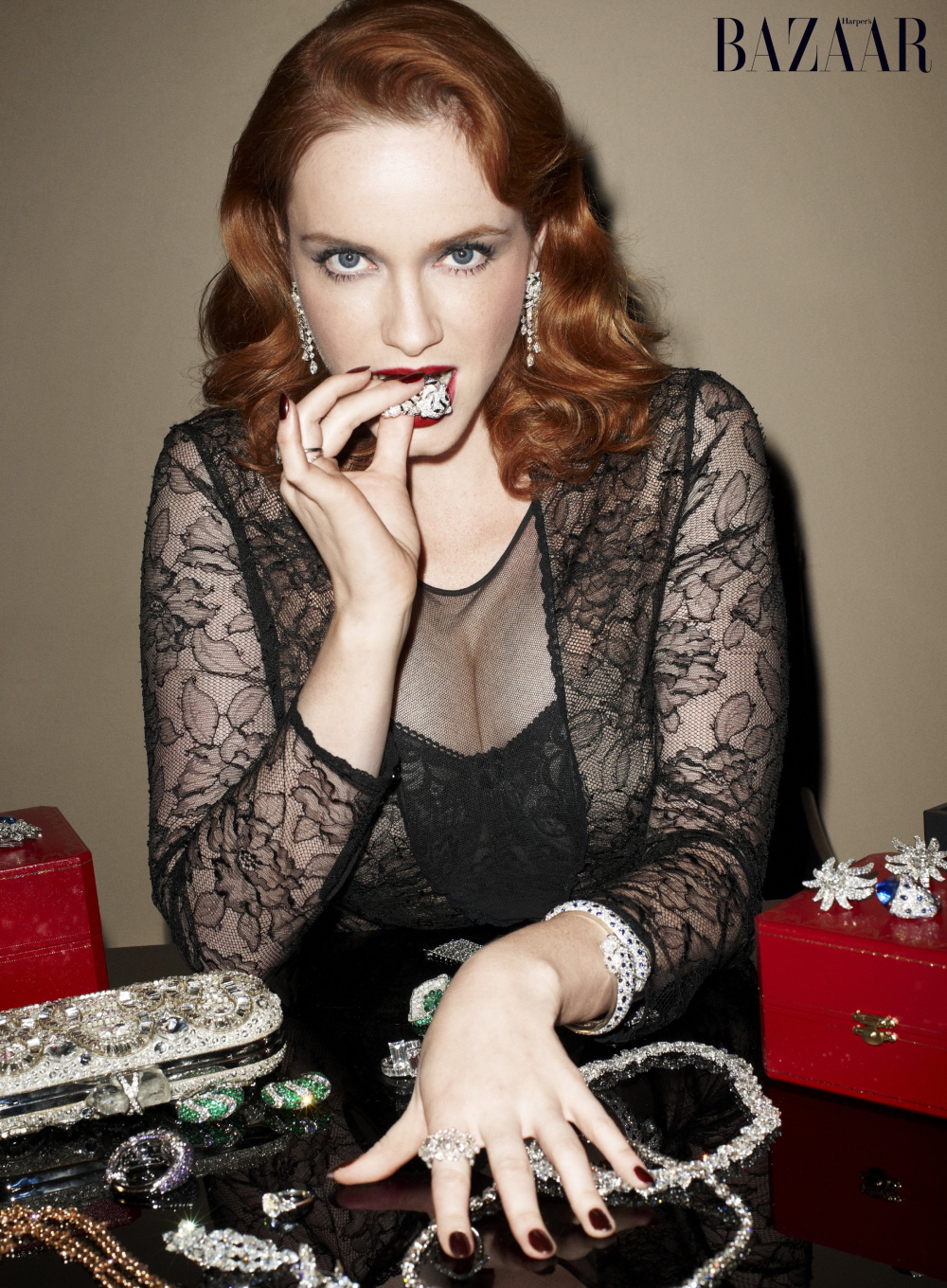 Photos courtesy of Harper's Bazaar.