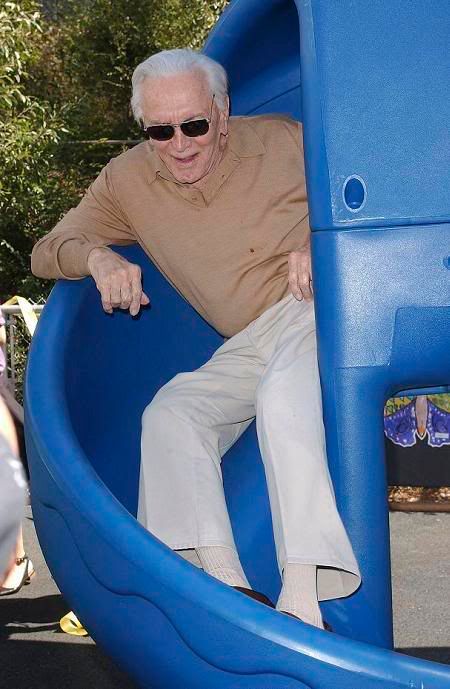 Kirk Douglas is my new hero. Today the legendary actor and his wife Anne dedicated their 400th school playground. Ten years ago the pair set up a foundation to build safe play areas for Los Angeles-area kids. After the dedication, 91-year-old Douglas played in the playground and even slid down the slides.
Kirk Douglas and his wife have dedicated their 400th school playground — completing a decade-long effort to give Los Angeles kids a place to frolic.

The 91-year-old actor took a ride down a slide during the unveiling Wednesday at a Los Angeles elementary school.

Douglas and his wife, Anne, created a foundation that has provided more than $8 million to build or refurbish play areas in the Los Angeles school district.

Gov. Arnold Schwarzenegger was on hand for the dedication and praised Douglas and his wife for their efforts. The governor and Douglas worked together in a 1979 movie called "The Villain" and have remained friends for three decades.
[From Newsvine]
That's amazing. These pictures make me ridiculously happy. What a great example to set for other people – especially celebs with the money to make such a positive impact.
Here's Kirk and Anne Douglas at the kindergarten playground dedication ceremony at Ivanhoe Elementary School in Silver Lake, Los Angeles. These are easily my favorite celebrity photos ever. Images thanks to WENN.