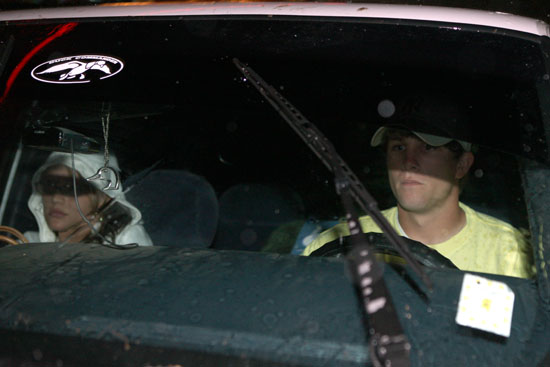 According to the National Enquirer, Jamie Lynn Spears and fiancé Casey Aldridge are fighting like cats and dogs. They can't agree on simple things, from where to eat dinner to what to name the baby. The Enquirer makes it sound like Casey is pretty shrewd. Apparently he wants to marry Jamie Lynn before the baby is born – but not for any traditional reason. If he does that, he can have more control over the baby's first photos and general press.
The couple is battling over everything from what to name the baby to what kind of wedding they'll have. The "Zoey 101" star wants to name the baby girl "Cailynn" (pronounced Kay-Lynn) and Casey wants "Cassie," a derivative of his name, according to an insider.

"Jamie Lynn is living in a state of fear over not knowing what to expect after she becomes a mother, but luckily she has her mom to lean on for support," continued the insider. "Still, when Casey doesn't give Jamie Lynn her way for even simple things like where to eat out, she starts crying and shouting at him, and it almost always turns into a war of words. Their ongoing battles have taken their toll on Jamie Lynn and have pushed her to a near-breaking point."

Jamie Lynn's most recent wave of fighting with Casey, 19, comes just after the two sealed the deal on a Mississippi country home they'll share with their new arrival. But right now, they can't even agree on a wedding date.

"Casey wants to marry Jamie Lynn before the baby is born so he can have some control over the rights to the baby's first photos that will be sold. He wants to be in on any money deals that are made by Jamie Lynn and her mom," said the source.
[From the National Enquirer, June 9 2008 print ed]
The Enquirer also says that Jamie Lynn doesn't want Casey in the delivery room. Instead she wants her mom there, and she wants Lynn Spears to cut the umbilical cord. Their source goes on to add that Jamie Lynn is really stressed and unhappy during what should be one of the happiest times in her life.
I'd argue that if you're a pregnant teenager, it's not supposed to be the happiest time of your life. Maybe if she were ten years older. But being pregnant at 17 tends to make for a lot of stress and arguments. Jamie Lynn has got it much better than most girls in her situation. Either way, it seems pretty clear that she shouldn't marry Casey Aldridge.
Jamie Lynn and Casey are shown on 4/4/08, thanks to Splash News.