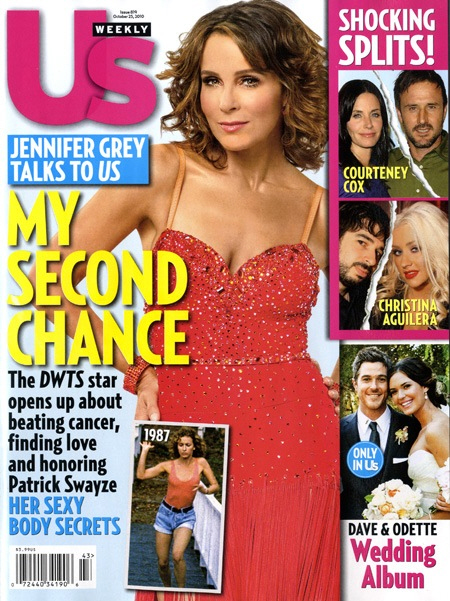 I don't really watch Dancing With the Stars unless one of my other shows is on a commercial break. Which is how I got to see Jennifer Grey dancing very beautifully last night – NCIS was taking a long commercial break (by the way, NCIS was really good last night!). I like that Jennifer Grey is on DWTS – although I think the show would probably be more interesting if they only let people on with zero dance training. Still, it's good to see Jennifer again, even though I barely recognize her. She famously had a career-killing nose job after she did Dirty Dancing. But it's not just the nose job that's making her face weird these days – she really looks like an entirely different person, doesn't she? So it's a bit rich to see her on the cover of Us Weekly proclaiming that she'll never Botox. Baby, please. Settle down.
Out of the spotlight for more than 20 years, it wasn't easy for 80s icon Jennifer Grey to return to the dance floor at age 50.

"Before the show, I thought, Oh, I should get some Botox, get rid of the wrinkles under my eyes," the Dancing With the Stars frontrunner tells the new Us Weekly (on newsstands now). "When you put a lot of makeup, the lines become very apparent."

But she says her husband of nine years, actor Clark Gregg, told her "not to touch anything, to be who I am, because I look great."

And Grey — who famously underwent two nose jobs in the 1990s; the second operation left her unrecognizable — is glad she listened.

"Aging is inevitable and the idea that we can be eternally youthful is the pitfall of our society," says Grey, mother to daughter, Stella, 8. "When my body and face were perfect as far as youth, I wasn't happy. If you try to hold on to something you don't have anymore, you can't be happy in the moment."

For more – including her "strong connection" to her late Dirty Dancing costar Patrick Swayze; how she conquered her scary battle with thyroid cancer; exclusive details on how she stays fit and why the Dancing Queen has no plans "on leaving the floor" – pick up the new Us Weekly today.
[From Us Weekly]
Well… sure. Okay, she didn't have Botox right before she went on DTWS. But she's done something to her face other than the nose job. That's all I'm saying. Beyond that, though, her figure is amazing! And she really is a gorgeous dancer.