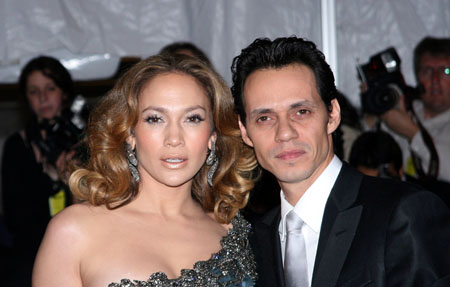 Last week, Marc Anthony called into a radio show and talked about how he and his mega rich wife, Jennifer Lopez, are caring for their three-month-old twins, Max and Emme, without the help of nannies, butlers, or even anyone else. He said "It's just us… we're figuring it out and having a great time." He also talked about how he was assigned overnight duty with the twins and that his shift is from 10pm to 8am. Maybe by "us," Anthony meant his mother-in-law too, because she's been staying in the couple's mansion on Long Island and helping out:
Jennifer Lopez's mother, Guadalupe, is such a doting grandmother to babies Emme and Max that she's now livin in her daughter's Long Island estate. "Jennifer has been having her mom stay at their home to help out with the kids. She likes having her around, even if it's just to ask her advice," says an insider…

J.Lo, 38, and Marc, 39… are hands-on parents, too, but they still listen to Guadalupe
[From In Touch, print edition, June 9, 2008]
The In Touch article came out late last week, and was published ahead of Marc's interview, so if it's accurate his mother in law was already living with them at that point.
Grandmothers love taking care of their grandchildren and it's not like it's a hardship for Guadalupe to live in luxury and watch her daughter's adorable babies. Anthony wasn't being entirely truthful when he said "it's just us," though. They surely have a maid along with J.Lo's mom to care for their children and allow them time to go out alone. Many families have that arrangement, but they also acknowledge it by telling friends that their mother is living with them. They don't have a public image to consider, though.
Lopez and Anthony were recently spotted at Tom Cruise and Katie Holmes' housewarming party in Beverly Hills. I wonder if they brought the babies with them or left them with grandma.
Guadaulpe Lopez is shown below at the NY premiere of El Cantante on 7/26/07. Jennifer Lopez and Marc Anthony are shown at the Costume Institute Gala on 5/5/08. Thanks to WENN.