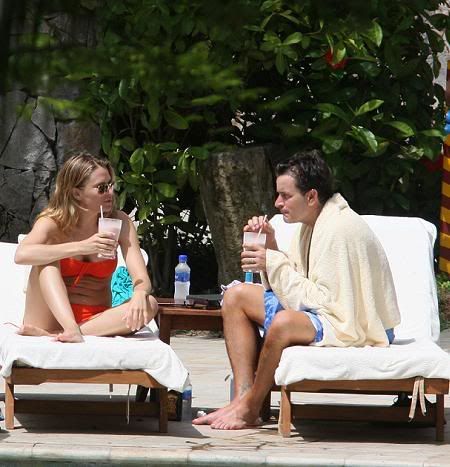 Charlie Sheen seemed to be ready to stop all the angry, public bickering that went on between him and ex-wife Denise Richards over the last two weeks. Richards dredged it all up again in an attempt to promote her craptastic E! show, Denise Richards: It's Complicated. And Charlie Sheen, being Charlie Sheen, took the bait too many times. But he'd stopped responding by last week, apparently focusing on better things – his Friday wedding to Brooke Mueller. The couple gave a long interview to OK! Magazine, and Charlie managed to slip in a few quick back door insults aimed at Denise.
On a beautiful spring day set against the backdrop of a sprawling Beverly Hills estate, Charlie Sheen and his lady-love Brooke Mueller said 'I do' in an intimate and romantic ceremony surrounded by family and close friends, and only OK! was there!

On May 30… Charlie,42, and Brooke,30, exchanged vows under a low hanging canopy in front of 68 guests including Sheen's parents Janet and Martin Sheen, brothers Ramon and Emilio Estevez and three daughters Cassandra,23,(from his first marriage) Sam,4, and Lola,3.

Celebrity event designer Yifat Oren incorporated nature themes for the couple's wedding theme and reception, using bowls of pears, oranges and chocolate-hued candles to adorn the dining tables. At one point a beaming Charlie grabbed the microphone and told guests, "I would like to introduce you to Mrs. Charlie Sheen. We did it, didn't we?" Later a 14-piece rock band played as everyone danced at the groom's request.

"I was telling a couple of friends last night that this feels like my first real marriage, Charlie confessed to OK!. "The first one was a show, the second one was a con, and this one is the real deal."
[From OK! Magazine]
Ooooh, snap Denise Richards! Actually the former couple were so similar in their lowbrow behavior that the really seemed perfect for each other – even more so after they divorced and the rest of the world had to witness their constant spectacles. Charlie is now supposedly on decent (and quiet) terms with his first ex-wife Donna Peele, so it seems like that comment was more aimed at the brevity of their marriage, which lasted less than a year. But calling his second – and very public marriage – a con is quite the slap in the face.
Brooke has been widely rumored to be pregnant, which she denied in the OK! story. However the couple confirms that the next thing on their to do list is each other: they're trying to get pregnant right away. Somehow Charlie Sheen having more kids to fight over just doesn't strike me as a good idea.
Here's Charlie and Brooke "soaking up their sun while enjoying a romantic honeymoon in Costa Rica," yesterday, according to Splash. Images thanks to Splash.