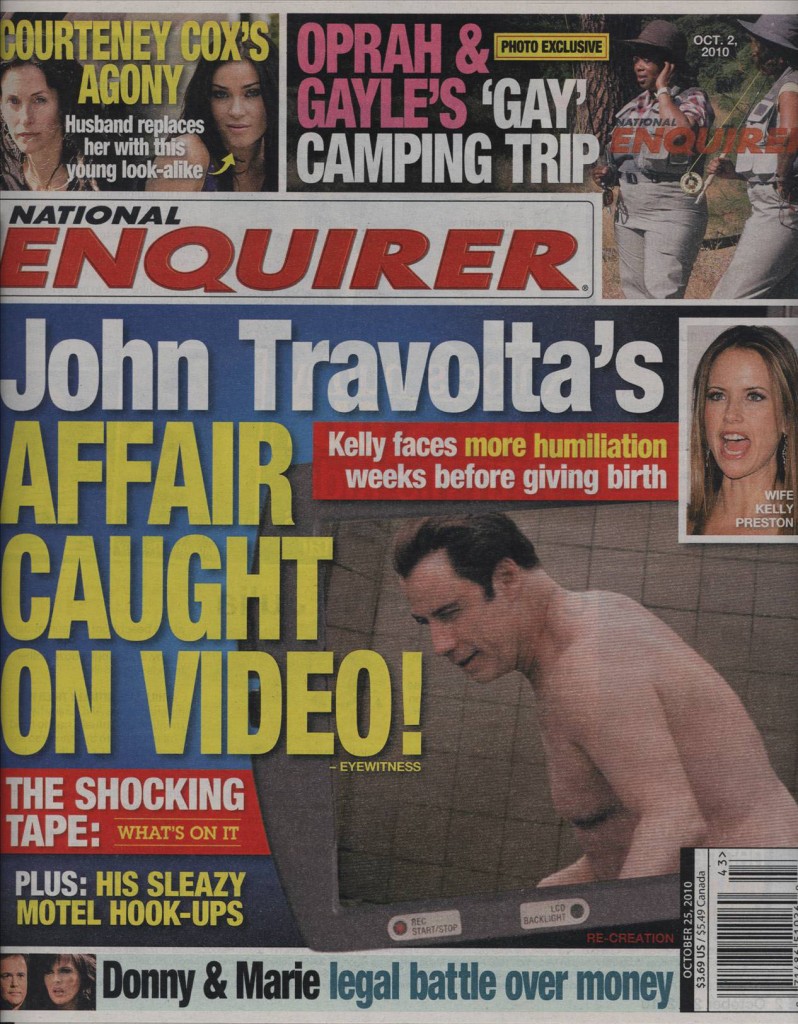 Note: the cover image is not a still from any alleged tape and is just from a paparazzi photo
The National Enquirer is running with yet another John Travolta cover story, this time claiming that his "gay affair" was "caught on tape." That sounds really juicy, only no one at the Enquirer has actually viewed the tape and they're relying on the account of a guy who has a book to promote and just swears he's seen a 2004 tape featuring John getting a BJ from another guy. The Enquirer's source passed two polygraphs, which is something, but not enough to convince me this story is real. Also, this is the same guy who started the latest round of "Travolta is gay" rumors and received another cover story in the Enquirer for it last month.
The author, interior designer Robert Randolph, offered up an e-mail to the Enquirer from the wife of a man who claims to have had sex with Travolta at a gym and a motel. It's all a lot of hearsay, but it could be true. If this is the case, and Travolta has had over 50 gay lovers as this guy claims, why has no one spoken out about it until now? We may have the answer in the form of some scary run-ins that Randolph had recently while driving. His car was chased by two different vehicles one day, with a black SUV ramming into him at a red light and attempting to run him off the road. Randolph believes its reprisal from the "Church" of Scientology for his claims about one of their most famous members. Here's more:
Randolph writes in his upcoming memoir "You'll never Spa in This Town Again" that Travolta is among a number of male stars who regularly engaged in gay sex in Hollywood steam rooms and health spas.

Now in another blockbuster, Randolph tells The Enquirer that a security camera videotaped the "Pulp Fiction" star during a gay hookup at a spa.

"I've seen the X-Rated videotape that clearly shows John Travolta having gay sex!" Randolph declared.

"On the tape, John is seen receiving oral sex from another man."

"The tape was recorded in 2004, and I know for a fact that a copy of the master tape was made," said Randolph. Two independently administered polygraph exams showed that Randolph is telling the truth about Travolta having sex with men.

"I'd be amazed if this video isn't made public at some point," he said…

Randolph's car chased and run off the road
"My book takes on John Travolta and the Church of Scientology. Both are incredibly powerful, and I fear their supporters may be out for revenge."

Both incidents unfolded on Oct. 7, according to Randolph. In the most frightening, a black SUV with a man at the wheel followed his Mercedes down the highway and chased him for miles, he said.

According to an L.A. Police Department report, the SUV "rammed [Randolph's] vehicle twice at the red light" and "attempted to run his vehicle off the road."

The SUV then raced off, Randolph said.

Earlier that day, Randolph claims he was followed by a different car and was forced to swerve when the other driver tried to overtake his vehicle."
[From The National Enquirer, print edition, October 25, 2010]
This guy should be scared. The man who tried to extort money from Tom Cruise over unauthorized "wedding photos" was found hanged in an apparent suicide while he was on house arrest. Only in order to hang himself he would have had to lift his knees up underneath him.
Is John Travolta gay? I could believe it. We've heard rumors, we've seen one kissing photo and now we have one guy who is making a lot of claims. It could be true, but if there are over 50 guys who claim to have slept with him, again why is only one guy who never slept with him coming out with this? So far all we have is hearsay and most of it is secondhand.