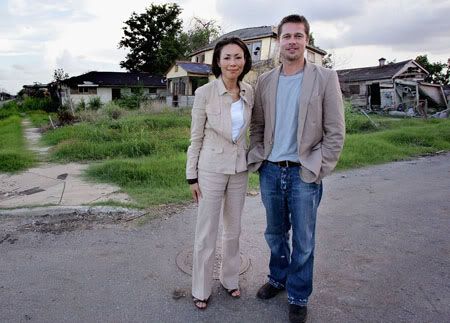 Brad Pitt says that having children is his biggest accomplishment, and that it keeps him from focusing on his hair and hot body. Speaking to Anne Curry of the Today Show, he said:
"I'm so tired of thinking about myself. I'm kinda sick of myself.
I can't do justice to it anymore than any other parent can. You feel that you want to be there and you don't want to miss out on anything. And it's a true joy. And you want to be there for them if they need anything. It's a true joy."
"[Having children is the] best thing I ever did. You know, you can write a book, you can make a movie, you can draw, paint a painting, but having kids is really the most extraordinary thing I've ever taken on. And, man, if I can get a burp out of that [baby], that little thing, I'll feel such a sense of accomplishment.:"
He is sponsoring a $100,000 contest to design a 12-unit apartment building in the most eco-friendly way possible, and hopes to bring awareness to the need to rebuild New Orleans while preserving the environment.
Here's a video of the Today segment:
Brad Pitt always seemed rather bland to me, but it's good to see him bringing awareness to important causes, and I definitely agree that being a parent is amazing. The Jolie-Pitts seem to have struck the best balance between being in the spotlight without having people get sick of them. If only they would hire a less aggresive security force.
Here are pictures of the interview courtesy of Just Jared. There are also photos from his press conference on Friday in New Orleans from CelebGuru.