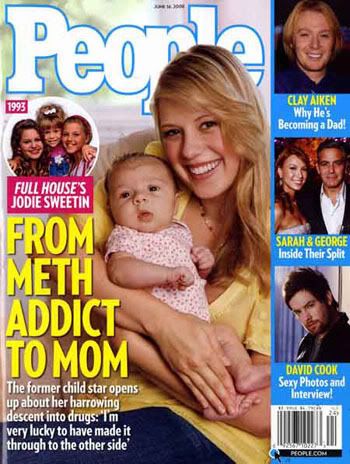 People Magazine is taking a chance by featuring a relatively-unknown minor celebrity with a compelling story on the cover this week. The headline reads "From Meth Addict to Mom" and features a photo of a smiling angelic-faced Jodie Sweetin holding her open-mouthed seven-week-old baby, Zoie. 26 year-old Sweetin is best known for playing daughter Stephanie on the late 80s/early 90s sitcom Full House. Her life since the series ended has been difficult and marred by a drug addiction at the age of 22. She was married to her first husband, a police officer, when she first tried crystal meth.
Sweetin has since become sober and is married again with her new baby.
Best known for playing spunky middle child Stephanie on Full House from age 5 to 13, Sweetin then landed a real-life role that cast her against type: battling an addiction to crystal meth.

At 22, Sweetin was a college student married to LAPD officer Shaun Holguin and taking a break from acting when she first tried the drug. Six months later, she had developed a crippling daily habit that she kept secret from her husband. That is, until in 2005, when she was hospitalized after a night of partying.

Sweetin and Holguin divorced after she left treatment, while she was spending six months in sober living with people from rehab. She met Herpin, a film transportation coordinator, through friends, and the couple began dating in May 2007 – and wed just two months later.

When their whirlwind romance was quickly followed by a pregnancy, says Sweetin, "it was a blessing."
[From People]
Jodie calls her newborn daughter "the most overwhelming, exciting thing I've ever done."
Is People changing to a more tabloid format by featuring this former child actress and her sensational story? It is an interesting one, and maybe she deserves the resulting boost in fame for kicking an addiction and becoming a devoted mom. Still, you can't help but think they're exploiting her story somewhat. Maybe if this cover sells they'll start to seek out former child actors who have battled drug addiction and had a rough life post fame. There certainly seem to be enough of them for the slow gossip weeks. People must know that there's nothing like a sweet baby and a reformed mom to move magazines, though.
Header from Cover Awards via D-Listed.