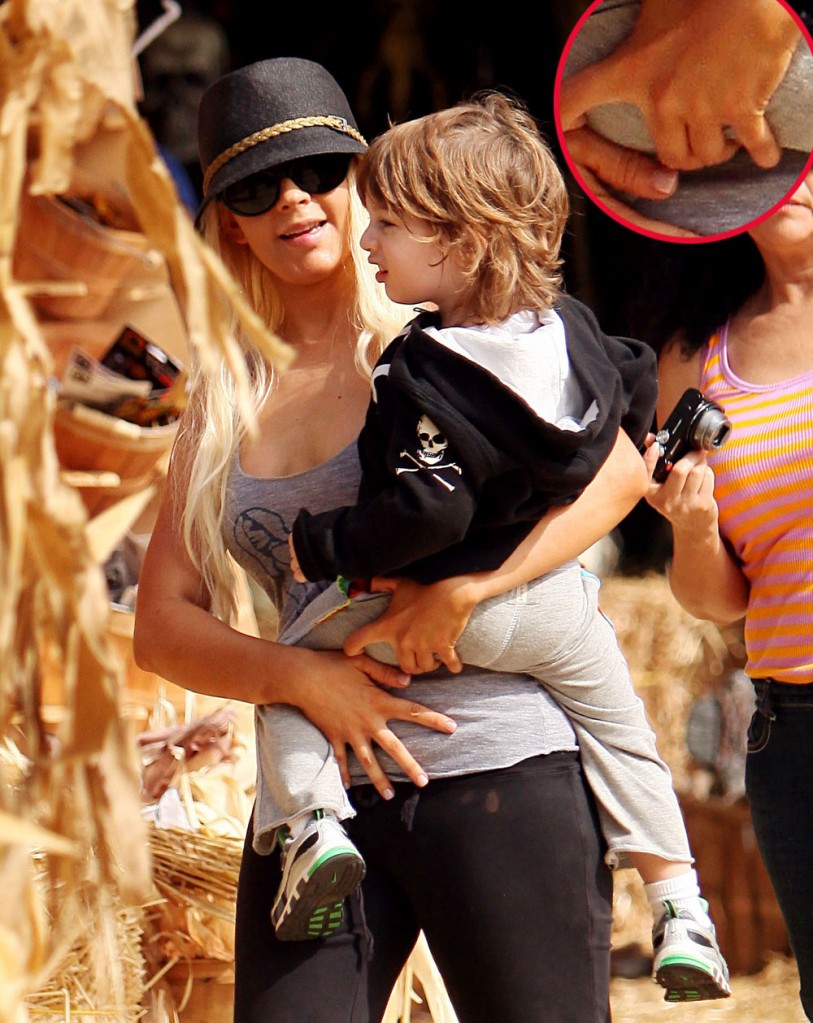 There are all sorts of theories about why Christina Aguilera's marriage to music producer Jordan Bratman is ending after nearly five years. Earlier this week we heard the rumor that Christina enjoyed random hookups with other women, something her husband was said to approve of or at least tolerate. A follow-up story in Bill Zwecker's column in the Chicago Sun Times lends credence to those rumors with the claim that Christina is "incensed" by the stories and "believes Bratman's friends are behind the leaks" about their sex life. To add more to the "Christina likes women" angle, there are new rumors that she's hooking up with DJ Samantha Ronson, best known for being Lindsay Lohan's on-off girlfriend. Christina attended Nicole Richie's bachelorette party in Cabo San Lucas last month along with Ronson and others, and she went to Hawaii over the weekend to attend a hotel opening, also with Ronson. According to paparazzi agency X17, Aguilera and Ronson are more than just friends:
A source very close to both Christina Aguilera and Samantha Ronson tells X17online exclusively that the singer and the DJ are taking their friendship to the next level.

Ever since Samantha went to Cabo with Xtina, "the two have been inseparable," says our source. "I've seen them hanging out together. Christina Aguilera really lets down her guard around Sam. They're very comfortable with each other."

The pop star was even seen leaving Sam's place late at night earlier this week AND she stopped by The Roxy on Sunday to see her new favorite DJ spin.

In June of this year, Xtina herself even told Company Magazine that she is "attracted to women."

The singer also said the following to Out Magazine in May: "My husband knows that I get into girls. I think it's fun to be open and play."

Is it a coincidence that Aguilera suddenly split from Jordan Bratman so soon after her Cabo trip (where she got even closer to Samantha)?

Our source also reveals that the twosome's relationship is nothing like the one Samantha had with Lindsay Lohan. "Their relationship is different because Christina doesn't create the kind of drama that Lindsay did."
[From X17]
Just because XTina is hanging out with a gay woman doesn't mean they're necessarily more than just friends, but it does look suspicious. Now that she has an estranged husband to watch her son for her she'll have plenty more time to party and go out. I have a feeling that's what this split is about for Christina and imagine that she found domesticity cloying. Other theories about her breakup include her blaming Bratman for the failure of her latest CD, Bionic, with the NY Post quoting a source who claims "She feels that he held her back when she wanted to focus more on her career." She just really lost focus and had no clue what kind of image or sound she wanted to put out there. It's not her husband's fault that her album tanked, although it was probably easy for her her to blame him for it.
Here's Christina at the pumpkin patch on 10/14 with her son, Max. The Superficial has photos of her in Hawaii. Sam Ronson is shown on 9/11.
Photo credit: Fame