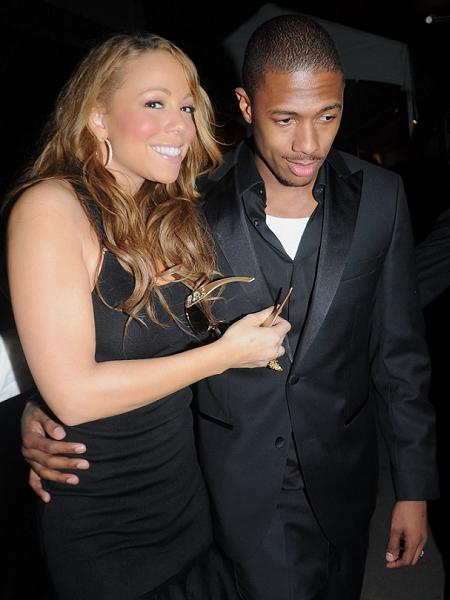 Mariah Carey really is the epitome of tacky. After she and Nick Cannon fairly randomly flew off to the Bahamas to get married, everyone assumed they'd have some kind of local celebration when they got back here. There's been a ton of gossip about it – but so far, nothing has materialized. That hasn't stopped Mariah and Nick from registering for outlandishly expensive gifts. Which in and of itself is fairly tacky. But the absolute golden rule of wedding registries is that you don't broadcast your gift list – you wait until you are asked where you're registered. Of course that didn't stop Mariah from having her assistant send out registry information to a hundred of her wealthy friends.
Mariah Carey's friends and colleagues weren't invited to her impromptu wedding to Nick Cannon, but they can still send a gift. According to an insider, "Mariah's assistant, Gina, sent out over 100 e-mails to her wealthy friends letting them know that she's registered at Bergdorf Goodman if they want to buy her a present. It's odd because she's not even having a big wedding party or anything. It was assumed they'd have a big celebration when they got back, but no. They just want the gifts." On the list are "fine china, very expensive silver stemware" and other items. Carey's rep declined to comment.
[From the New York Post]
I wonder if Mariah could figure out a way to register for some class? I think if anyone would sell it, it'd be Bergdorf's.
Here are Mariah Carey and Nick Cannon at Operation Smile's 5th Annual Event at Skylight Studio in New York on May 15th. Images thanks to WENN.