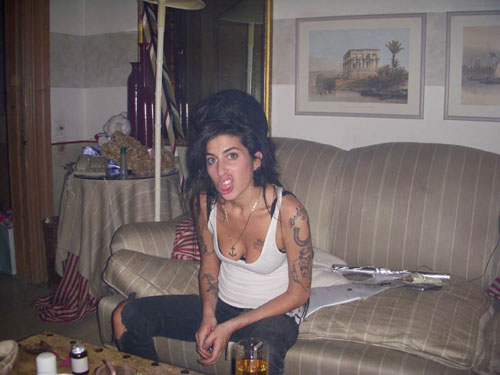 Just in case Amy Winehouse's career wasn't screwed enough from her inability to perform, her crack-smoking video, her multiple arrests including an assault charge after she head-butted a guy, her general drugged-out behavior, and her curious friendship with perhaps the only current musician with a worse reputation than she has, there's now a new video that's been released by The News of The World that has shows Amy singing an obnoxious idiotic racist song that insults seven different groups at once. The News of The World also claims to have seen a video of Amy giving her husband a BJ, and a photo of her giving him a listless hand job. It doesn't sound like Amy is shown doing drugs in the video, although she's shown holding a home made crack pike and there is certainly plenty of paraphernalia strewn around. There is also a photo of Amy and Blake with white tablets in both of their mouths.
The News of The World describes the entire video, which was taken a little over a year ago by Amy's incarcerated husband, Blake Fielder Civil. The say that the video was given to them by "a former friend determined to show the world just what power Blake wields in manipulating the vulnerable young star," but Blake is likely the one who released the video and accompanying photos. There have been stories about how he's been selling topless photos of Amy to his fellow inmates, and how he has a new girlfriend and they're trying to extort money from the troubled star.
Fielder-Civil is now on trial for assault and "perverting the course of justice," or witness tampering, and things seem to be better between the two. Amy has been showing up to blow kisses at her husband, speaking out inappropriately in the courtroom, and telling the press how f'ing handsome and great he is. That doesn't mean he's beyond releasing this video and photos, especially considering how much he lies to her on tape and swears up and down he's not recording:
In a sequence shot around May 2007—weeks after the couple eloped to wed in Miami—they are in a dingy crack den with Delboy-style bamboo patterned wallpaper.

Amy, 24, and a pal called Sarah giggle as they sing a string of racist lines set to the tune of kiddies' favourite 'Heads, Shoulders, Knees and Toes'.

Blake pretends NOT to record the unfolding events and eggs them on, saying: "Can we have a singsong of it?"

Sarah is at first reluctant but soon warms to the action as Amy enthusiastically sings:

"Blacks, Pakis, Gooks and Nips, Gooks and Nips!

"And deaf and dumb and blind and gay!"

She repeats the first line over again and on the word "Nips" Amy pulls her eyes into slits then pushes her boobs up in a gesture to her nipples.

The girls' efforts are greeted warmly by Blake, who pledges: "Well done. I promise I wasn't recording it." Amy Winehouse's shock show-off pose

He then adds to Sarah: "I swear on your life. I swear on your life."

As the camera pans back we see a coffee table in front of Amy. On it are SIX cigarette lighters and what appears to be HEROIN on a foil—a typical druggie scene set for "chasing the dragon" by heating the drug from below then inhaling the smoke through a tube.
[From News of the World]
Amy seemed to clean up briefly right before the Grammys in early February. She gave a great performance and seemed genuinely touched to have received five awards, including best new artist. Her troubles go beyond her choice of companions, though, and she looks worse and is acting out in public more than she did last year when this video was taken.
It's pretty disgusting how racist and stupid she is, and she doesn't need to have the public know that she's an ignorant bigot as well as a drug addict. That's not something you joke about and I wonder if she'll apologize. Her back up band is made up of black guys and she has fans all over the world. But Paris used the "n" word and that was caught on tape and she didn't suffer much fall out unfortunately. This is a much worse offense in that she insults four groups with incredibly derogatory names and dismisses them by saying they're "deaf, dumb, blind and gay," as if that's the most negative thing she can come up with. She's managed to dismiss and insult seven groups in one sing-song rant and there will be many more people who are unwilling to work with her or buy her music now that this is out.
After everything that this 24 year-old woman has gone through you hope she'll clean up and that someone will step in and help her. It seems like less of a possibility the more time passes, and one of the sad things about these photos is that she looks much healthier than she does now. The more photos and videos that come out of her doing drugs and acting like a fool the less I care what happens to her though. I don't wish her any harm, but she's dug herself a deep hole and she seems more than content to wallow in it, singing about how happy she is to roll around in the mud.
Photos are from News of The World, where there are many more, including some of her husband's tattoo tributes to her.