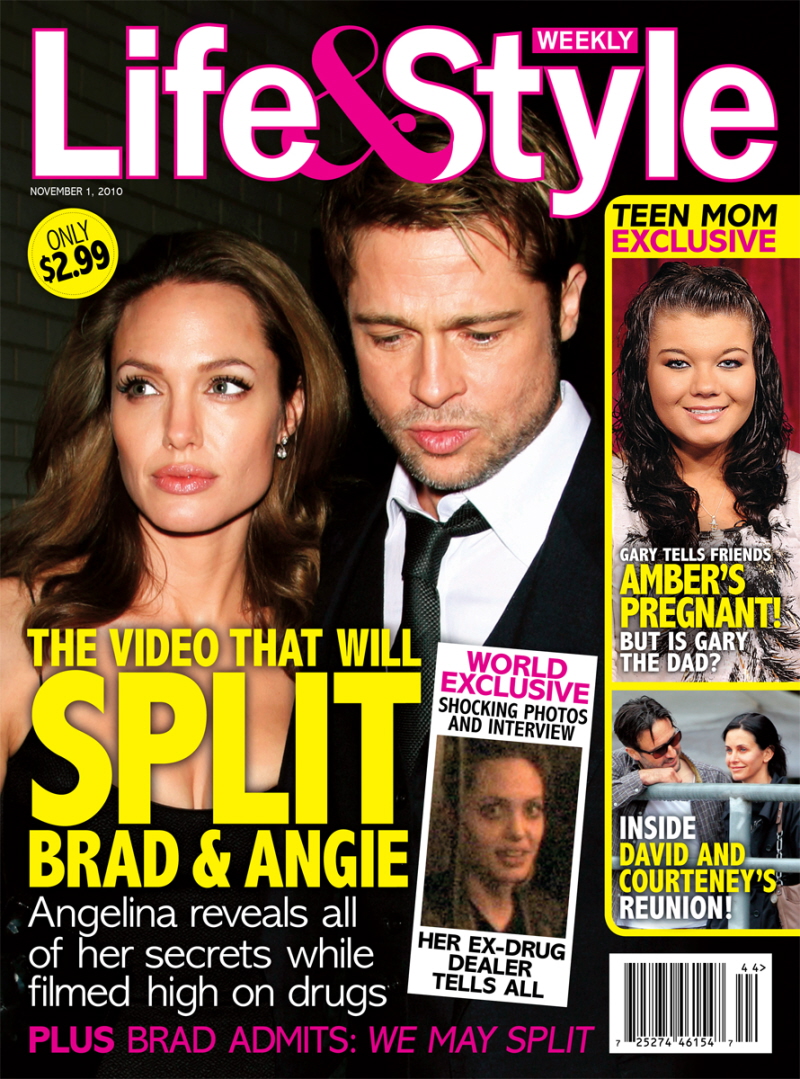 If you want my opinion, Life & Style got a half-way decent "scandalous" story about Angelina Jolie, and they ruined it with an over-the-top cover. The story is simple enough – they got an interview with Angelina's old Manhattan dealer, back when she was snorting everything in sight, circa 1997. That's 13 years ago, by the way. You know what I was doing in 1997? I don't remember, because I got stoned like every day that year. Anyhoodle, Angelina used to snort cocaine and… heroin…? And her dealer made house calls (so did mine, it's kind of awesome). And back then, Angelina decorated her apartment with photos of dead bodies… and she was even obsessed with adopting, even back then. Now, I have no idea what any of this has to do with "ZOMG The Video That Will End Brangelina Forever!!!!!"
For the first time ever, Angelina Jolie's former drug dealer, Franklin Meyer, is speaking out exclusively to Life & Style about the actress' past drug use. Among the shocking secrets Meyer shares only with Life & Style – on newsstands now – he reveals Angelina frequently used both heroin and cocaine in front of him.

"We'd see each other two to three times a week when she was in town. She would buy cocaine and also heroin," Meyer tells Life & Style, who first met Angelina in February 1997, when she and a male friend came to buy drugs from him at NYC's Chelsea Hotel. She was just 21, and soon became a regular. "She would generally spend about $100 each time — that would buy maybe half a gram of coke and a 10th of a gram of heroin. She would snort the cocaine and the heroin in front of me. It didn't seem to matter to her who else was there."

Occasionally, he says, he would even go to her apartment in the Ansonia building on Manhattan's Upper West Side, and she would do drugs there. When he first saw her place, he got a shock: The walls of her apartment were covered with photos of dead bodies! "I assumed they were real bodies. They were like places or apartments where there were murders. I don't know where someone would get pictures like that."

But Meyer says the most bizarre thing about Angelina was that she was obsessed, even then, with adopting a child. "She would say to me, 'I think I would really like to adopt a kid.' I was shocked…. In the middle of the drugs and the knives, she'd be talking about wanting to adopt a child," Franklin tells Life & Style.
[From Life & Style]
I mean… is this scandalous? Eh. I can only imagine what my old dealer would say about me. That is, if he remembers me. He was pretty high too. He was like an Asian version of James Franco's character in Pineapple Express. Plus, it was 13 YEARS ago, and Angelina has talked about her former drug usage plenty of times, and she's also talked about her obsession with death and how she always knew she wanted to adopt. Eh.
In additional Jolie news, James Cameron is talking about her! Cameron is likely going to executive produce and maybe even direct that new Cleopatra movie, the author claims she wrote with Angelina in mind. Apparently, it's going to be 3D? Cameron tells the NYT: "There's a Cleopatra project in works, meaning that it's been in development at Sony. And it's a subject that's always fascinated me… But it sounds hot, doesn't it? I mean, Angelina Jolie and Cleopatra? To me, that's like a slam dunk. Whether I wind up doing it or not, I think it's going to be a great project." Of course, nothing has been written or signed or anything, so God knows what will happen. If Jolie does end up doing it, though, it will be very interesting to see who plays Caesar and who plays Marc Antony. Is it wrong that I'm hoping Clive Owen's name is in the mix? Sweet Jesus.