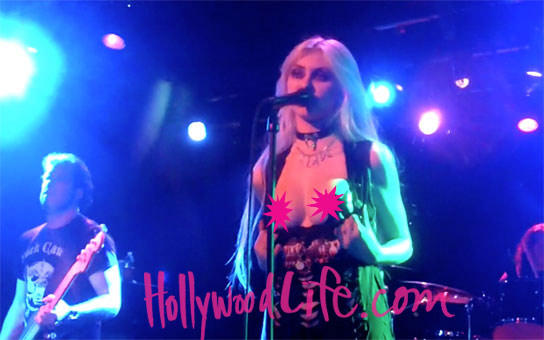 We recently saw video and a photo of still underage Gossip Girl Taylor Momsen, 17, flashing her pasty-covered boobs to the crowd while performing with her hard rock band, The Pretty Reckless. Momsen has worked hard at cultivating a laughably cliche "badass" personality, and while it seems so predictable and done to death people are still worried about her, and wondering why her parents aren't putting a stop to it. We may have the answer in this follow-up report from Hollywood Life, which broke this story and claims that Taylor's mom was right there in the crowd cheering her on. There's no word whether she hung her head in shame after Taylor's stunt and/or if she told her to cut it out afterwards. Since Taylor is singing in a rock band and running around without pants and with ten layers of liquid eyeliner I guess we can assume she has the complicit approval of her parents. (I'm guessing her parents are still married based on her wikipedia entry and this biography from TVGuide) Here's Hollywoodlife's report:
Taylor Momsen shocked everyone when she flashed the crowd at her Pretty Reckless concert at NYC's Don Hill's club,Oct. 21, and HollywoodLife.com was there in the audience of about 65 fans! But, we can now also reveal that Taylor's mom, Colette Momsen was also in attendance! Not only did Taylor don stripper heels, and a necklace that read "Slave," at the PAPER Magazine & Express Celebrate "Rock The Sidewalk" event, her mom seemed to be totally fine with her 17-year-old daughter's performance!

We spoke to Beverly Hills psychiatrist Dr. Carole Lieberman, to discuss why Taylor's mother would tacitly allow such over sexualization of her underage daughter.

"[Her behavior] could be directed towards her stage mom, who is obviously egging her on in order to vicariously enjoy her fame," believes Dr. Lieberman. "Taylor is following in the footsteps of Lindsay Lohan, Miley Cyrus and Britney Spears whose moms are actively working on making them superstars, regardless of whether they self-destruct in the process."
[From Hollywood Life]
It does sound like another Dina Lohan situation, although I guess we can't judge Taylor's mom until we actually see her in an interview. I did find these photos of Taylor's mom, and she dresses young and fashionably. So is it her mom's fault that Taylor is flashing her boobs and donning stripper gear on stage? She doesn't seem to be doing much to stop it now does she?
Header image via Hollywoodlife
Here's Taylor's mom Colette. I guess we know where Taylor got her style:

Here's Taylor just two years ago. (photo via Wikipedia)