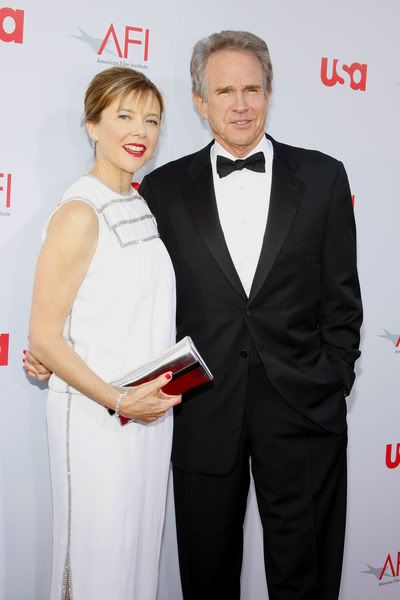 Warren Beatty was presented with a lifetime achievement award by the American Film Institute last night. Beatty's former co-stars Halle Berry, Jane Fonda, and Diane Keaton were among the speakers at the event. Each told stories of their experiences working with the 71 year-old Hollywood legend:
Several generations of actors – from Robert Downey Jr. to Angela Lansbury – turned out at the Kodak Theatre for the 71-year-old, who's been a movie star since his 1961 vehicle opposite Natalie Wood, Splendor in the Grass and a Tinsel Town force since his groundbreaking Bonnie and Clyde – which he starred in and produced in 1967.

But other distinctions were singled out, too. Halle Berry, Beatty's 1998 Bulworth costar, referred to him as "the greatest white rapper of the past 15 years."

She further revealed that, when it came to their working together, "there was the usual discussion with the studio if there should be a scene to spice up the movie – if somebody should go topless. But I have to say, to Warren's credit, he put his foot down and he insisted on keeping his shirt on for the entire movie."

The evening also touched upon Beatty's two other great passions: politics and the ladies – though, as one guest speaker, Jane Fonda, told the crowd, when she long ago met (and screen-tested) with Beatty in the 1950s, "I thought he was gay. He was so cute, and all his men friends were gay, and brilliant. He had a way of collecting really brilliant gay men friends. And he liked to play piano in a piano bar – I mean, what were the odds he was straight? Shows you how dumb I was."

Recollecting the memorable scene in 1981′s Reds when her character is reunited with Beatty's after a long and potentially tragic period of time, Beatty's former real-life romance Diane Keaton recalled how Beatty the director pushed her in take after take to find the real emotion of the moment, despite her resistance.

"Finally," said a now very emotional Keaton at the Kodak, "there was this sweet anguish of love when I saw your face, in a moment shared in time together. Thank you, Warren, and congratulations."
[From People.com]
Beatty credited acting with introducing him to his wife of over 15 years, Annette Benning, 50. He said "I love my profession, because it's introduced me to the person who's given me the most important thing of all, which is her love and the love of our four children … Annette."
Here are pictures from the red carpet including Molly Ringwald, Chevy Chase, MC Hammer, Robert Evans, Warren Beatty and Annette Benning, Diane Ladd, Jane Fonda, Art Garfunkel, Faye Dunaway, Eva Mendes, Holly Madison, Bridget Marquardt, and Kendra Wilkinson, Robert Downey Jr., Lainie Kazan and Kelly Lynch.