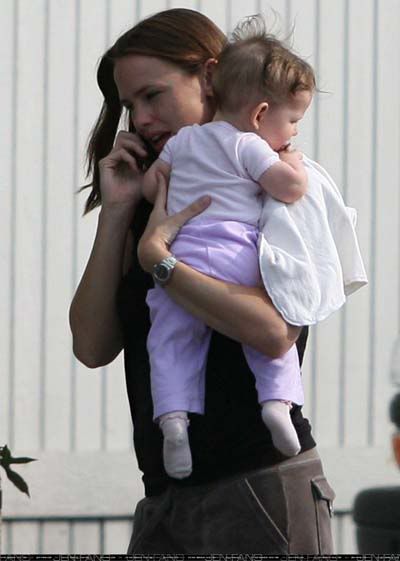 Jennifer Garner arrived in Boston from Arizona by private plane with her eight month-old daughter, Violet. She soon found out that the SUV that was transporting her back to Cambridge was not equipped with a carseat. She wasn't having that, and set an example for celebrity moms everywhere by insisting that one be installed before she left:
Jen and Violet got into the SUV waiting to take them to Cambridge only to find that there was no carseat installed. Jen was apparently "adamant" that one be found, and "took the baby in the terminal and didn't come out until someone returned with a seat…When the guy did come back with one, it took him about 20 minutes to figure out how to secure it. She wasn't happy."
Jen's quite an intelligent woman, and she would never jeopardize her baby's safety just to get somewhere a little faster.
Ben and Jen are said to be considering a permanent move to Cambridge. They are staying in the Boston suburb, home to MIT to Harvard, while Ben directs "Gone Baby Gone." Ben's mom and Jennifer's sister live nearby, and sources say they may make it their home base:
As you are sooooooooo aware by now, the Afflecks have settled quite nicely into a rented manse near Ben's childhood home in the People's Republic whilst he films "Gone, Baby, Gone." (The film wraps Aug. 4.)
And the Hollywood honeys appear to be quite content with life in Harvard Square as they take daily walks with little Vi in the carriage, chatting up neighbors and fans along the way. Can't do that in paparazzi-infested Brentwood!
The couple, according to [Us Weekly's] sources, plan to commute to the Left Coast for film projects and other movie star commitments, but would call Cambridge home.
And why not? Ben's mom, Chris, lives nearby, Jen's sis lives in Newton and ya know how the "GBG" director loves the local politics (they've both ponied up to Deval Patrick's gubernatorial campaign).
I love it in Cambridge and always stay there when I visit Boston. It's a bitch to drive around the city, but the subway is pretty logical and convenient, and it seems like a nice place to live.
Garner is rumored to be pregnant again, with Star Magazine saying that she recently left a medical building looking happy and talking on her cellphone, and eagle-eyed bloggers like us pointing out that her stomach is not perfectly flat. It doesn't seem likely.
Pictures [via]