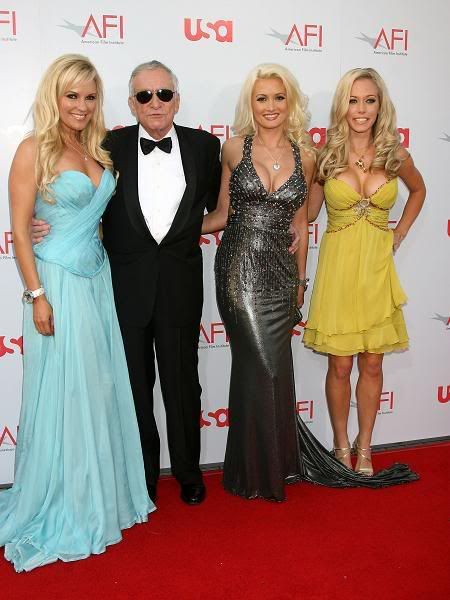 The second happiest place on earth isn't so happy after all. The fur is flying at the Playboy mansion. Who would ever have thought that putting three vain, quasi-famous nude models in the same house would be problematic? Especially when they're all hooking up with the same rich guy? I know! Sounds like a recipe for harmony and happiness to me. But apparently some people just can't appreciate a good thing – and two of the three girlfriends of Hugh Hefner are fighting like cats and dogs.
TMZ spies tell us Hef's number one Bunny Holly Madison is ruling the Mansion with an iron fist … causing major drama with the staff and on the set of "The Girls Next Door." We're told everyone "hates" Holly, but no one more than Kendra Wilkinson, Hef's other Bunny-in-Waiting.

It's gotten so bad, those two can't be in a room for more than five minutes without totally going at it. And that's posing major problems for producers of the show who have to shoot around the flying fur. As for Bridget, she's Switzerland, often trying, but failing, to keep the peace.

Our spies also say Holly's ambition is spilling over to the magazine too. She wants to have editorial control over the mag's spreads — which is not going over well with longtime employees.

For their part, "Girls" producers tell us they're "not aware" of any rift between the ladies — affecting the show or life at the Mansion.
[From TMZ]
I'm kind of embarrassed to admit that I actually have seen this show a couple of times, despite my loudly proclaimed hatred of non-scripted television. It's pretty obvious that Kendra and Holly don't like each other, even if they're technically nice to one another on the air. They're total opposites. Kendra has often been rumored to be bisexual or gay, and is definitely more of a tough tomboy type. Holly is uber girlie, and has told everyone who will listen that she wants to have Hef's baby. I really doubt that's because she's so in love with him – but it'd be a great payday for sure.
Something tells me this can all be solved with a good old fashioned pillow fight. As can most things.
Header of Bridget Marquardt, Hugh Hefner, Holly Madison, and Kendra Wilkinson at AFI's Lifetime achievement award honoring Warren Beatty on June 12th. Below, Hef and the girls at the Playboy Jazz Festival in Los Angeles on June 14th. Images thanks to WENN.