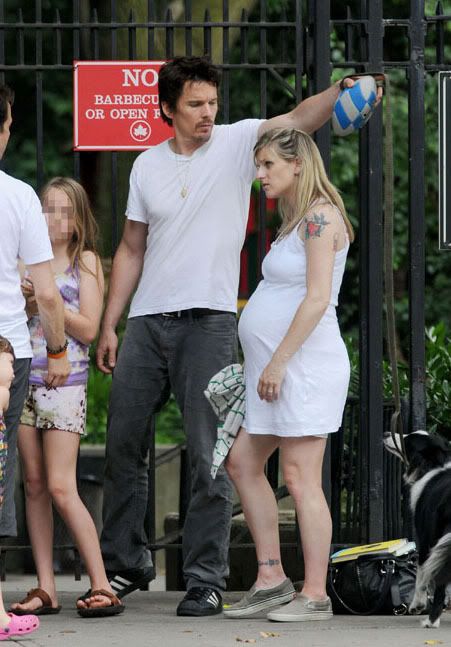 Ethan Hawke, 37, was spotted out on Father's Day with his two children with ex Uma Thurman, and his pregnant fiancé, 27 year-old Ryan Shawhughes. Ryan worked as a nanny to his two children, Maya, who turns 10 next month, and Levon, 6, back when he was married to Uma. Ethan and Ryan went to great lengths to keep their relationship secret, and while they claim they didn't hook up until after his divorce was final, the tabloids of course say otherwise.
TMZ has a video of them on Sunday and when a paparazzo wishes him happy Father's Day Ethan responds "F'ck you" while walking right next to his six year old son and within earshot of his daughter. There was more than one photographer tailing them and chances are high that one of them said a bunch of rude stuff to him before he boiled over and told him to F off. If you listen to the crap the photographers shout at celebrities even on the red carpet it's sometimes outrageous.
Ryan and Ethan applied for a marriage license earlier this month and I'm guessing that's one wedding photo that's not likely to be in People Magazine.
Thanks to Splash News for these photos.