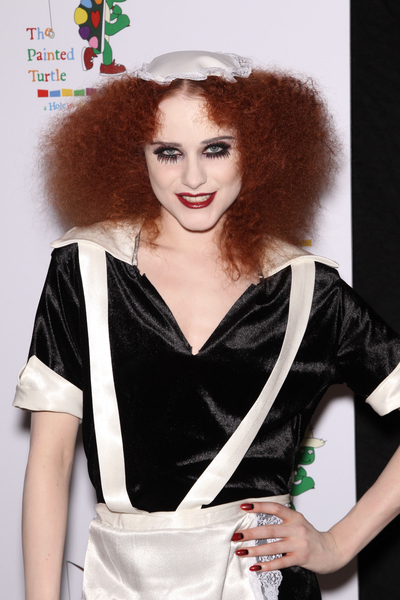 I wasn't going to cover this interview in which Evan Rachel Wood sort-of confirmed that she'd broken off a sweet, sweet piece of her True Blood costar Alexander Skarsgard, but then I saw these amazing photos of her at the Rocky Horror 35th anniversary tribute show in LA. She's a perfect Magenta in a maid's costume right down to her black and red manicure. (Although the original Magenta didn't have black nail beds.) Evan has a brief interview with E! Online, in which she oh-so-casually drops that she's dated a castmember on True Blood. This girl is smooth and she knows how to feed information on the press without making it obvious. We first heard that Evan and Alex were dating last September. Shortly afterwards, Kate Bosworth got her emaciated claws into Alex and Evan reconciled with Marilyn Manson, only to thankfully break up with him again. I guess losing Alex Skarsgard to Kate Bosworth is enough to send a poor girl into Marilyn Manson's arms.
We chatted with Wood at last night's Rocky Horror Picture Show tribute benefit for the Painted Turtle in L.A. about the very successful love lives of the show's cast.

"God, that set is just a lovefest over there," she told us. "I've even been there myself. I did date one of the castmembers already."

But that's in the past. Now, she has another costar to think about. He's not someone on True Blood, but a young hottie in The Ides of March, a political drama directed by George Clooney.

"My character gets herself into a bit of a predicament with one of the politicians, and she's also Ryan Gosling's love interest," Wood said. "I'm very excited [because] I've had a total crush on him forever. It's going to be amazing!"

As for working with Clooney, who's notorious for pulling pranks on his costars, Wood said, "I'm excited for the practical jokes…Bring it on!"
[From E! Online]
I find Wood pretentious but anyone who can do a costume so well earns major points in my book. She's lovely as Magenta, and I found her somewhat believable on True Blood as Louisiana's vampire Queen Sophie-Anne. The girl is just 23 and she survived a longterm relationship with Marilyn Manson. She's probably kicking herself that she lost out on one to Alex Skarsgard, although the fact that he's been with Kate Bosworth for so long just makes him seem inadequate despite all the evidence otherwise.
Photo credit: PRPhotos.com