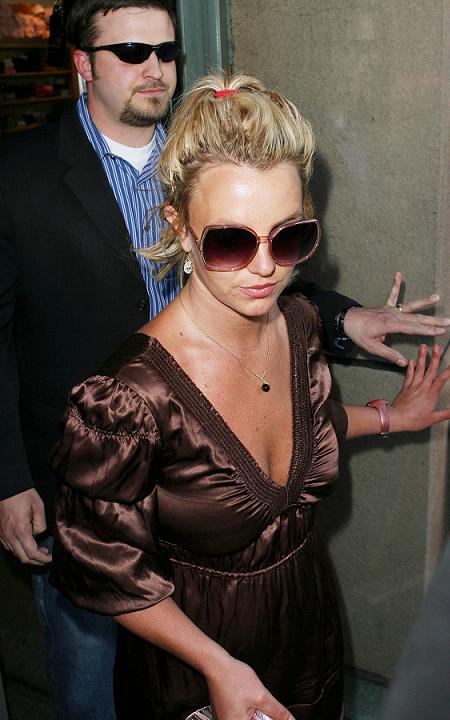 The Spears family seems to be moving forward in a mostly positive, healthy, normal manner – at least for them. According to several reports, Britney is leaving for her hometown of Kentwood, Louisiana later this week, to be with pregnant little sis Jamie Lynn. She may stay up to a month.
Hopefully Britney won't be passing on any parenting techniques. Well, maybe a few she learned by trial and error: don't drop the baby (especially when photographers are around); always use a car seat; don't drive with a kid on your lap… you know, the kind of lessons most parents really have to just learn for themselves.
While Britney's spending some quality time at home, her dad Jamie is selling her house. He got permission from the court yesterday – though presumably Britney's okay with it too.
Earlier today, a Los Angeles court commissioner OK'd a request from Spears' conservatorship asking for permission to put the property on the market. The court approval comes days after Spears was spotted looking at a $5.6 million, 7,300-square-foot house (above) in the L.A. suburb of Encino, closer to the home base of ex-husband Kevin Federline and the ex-couple's sons, Sean Preston and Jayden James.

Spears has not exactly endeared herself to fellow denizens of the community, who have complained about the constant presence of paparazzi outside the gates. Some reports have blamed Spears as the reason neighbor Ed McMahon has not received a single offer on his $6.5 million house that's facing foreclosure.
[From E! News]
It sounds like it'd be a good idea for Britney to get a fresh start. She's made a lot of big improvements to her life; certainly moving closer to her sons would be another one. And if it helps Ed McMahon, who wouldn't want to do it?
Britney's conservatorship is slated to be extended or go to trial in early August. If all parties agree to extend it, nothing will happen, but if Britney doesn't agree to her dad retaining legal control of her life, she has the right to a jury trial. Can you imagine the drama? Britney wasn't in court yesterday – her lawyers said she was out of town, but didn't specify where – but she and her lawyer will be going over her options in the next week.
The evil, gossipy part of me hopes she doesn't agree to extend her conservatorship, just for the drama of a trial. The slightly more benevolent part of me hopes Britney agrees to keep everything moving forward. Little sister Jamie Lynn is expected to deliver her baby sometime near the end of the month. Hopefully all that family time will be good for everyone.