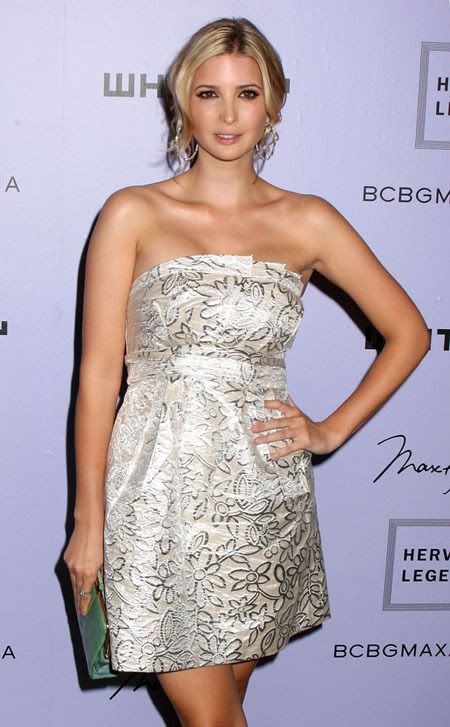 Any celebrities who honestly think that their kids aren't going to read about their shenanigans in the tabloids should listen to Ivanka Trump. The daughter of Donald and Ivana recently revealed how as a kid, she and her brothers found out all the sordid details of their parents' high-profile divorce thanks to Page Six and other magazines.
IVANKA Trump says that as kids, she and her brothers Donald Jr. and Eric learned the tawdry details of their parents' scandalous divorce by reading The Post. The gorgeous blonde tells next month's Town & Country they found out Donald was caught carrying on with model Marla Maples from this newspaper. "We'd come home from school having read [about] them on the cover of The Post," she reveals. The most jolting possibly being: "Marla Boasts to Pals about Donald: BEST SEX I EVER HAD."

Ivanka also takes a dig at her peers who don't work for a living: "I'm not the type to be eating bonbons all day. I just can't imagine anything worse than spending my day figuring out what I was going to wear that night." Meanwhile, she flew commercial to Aspen last weekend for the Annual Food & Wine Classic, but had an unexpected one-night layover in Salt Lake City due to storms. She slept at the Quality Inn and ate at Little Caesars for dinner with her $18 stipend from the airline.
Man, and I thought my parent's divorce was tough. I can't even imagine picking up a newspaper and reading an interview with my dad's mistress about how great their sex life is. I'd be in therapy for life. But, it looks like Ivanka has survived it nicely, remaining close with both her parents. However, I do wonder about some of these other celeb kids (ahem – Charlie and Denise) whose parents' battles are splashed across headlines daily.
Ivanka Trump is shown at "The Whitney Contemporaries' Art Party and Auction" on 6/17/08, thanks to WENN.