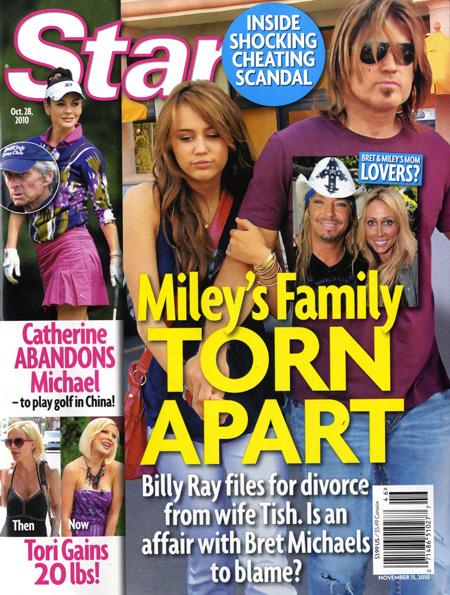 Late Tuesday, Us Weekly released their "scandalous" report that Miley Cyrus's parents were divorcing after Billy Ray found out that his wife Tish was boning Bret Michaels, amongst others. Us Weekly's sources claimed that Tish and Bret had a full-fledged affair, and that Billy Ray found out it and basically told Tish that their marriage was over. The whole thing was first reported by Star Magazine, back in February of this year. Now Star is getting back into the act, with a follow-up to their February story, in this week's new cover story. Star reiterates the claim that Tish and Bret were bonin' but they add a new wrinkle on the divorce proceedings: Tish and The Mullet are fighting over Miley's money. Because Miley is the only one supporting herself, and the entire family. Ugh. That's worse than the affair story, in my opinion.
Turning 18 should be an exciting milestone for Miley Cyrus, but it's hard to celebrate with her family life in meltdown mode. In the Nov. 15 issue of Star, on sale Wednesday, we reveal that Billy Ray Cyrus is divorcing his wife, Tish, in part because she was carrying on with rocker Bret Michaels.

"Billy Ray suspects there's been something going on between his wife and Bret for a long time," an insider tells Star. Adds another source, Tish — whose production company plans to turn Bret's upcoming autobiography, Roses & Thorns, into a movie — "fits the profile of women Bret usually goes for: skinny, big boobs and blonde hair."

Tish pulled out all the stops with Bret. A source says she "would always show up to the studio in tight jeans and revealing T-shirts and flirt shamelessly with Bret."

Billy Ray was "ashamed of Tish's behavior and he wants out of this mess," says the insider.

Miley should be feeling liberated as she readies to become of legal age, but instead she has to choose sides in her parents' bitter tug-of-war over their reported $150 million estate.

"Billy Ray and Tish are already bickering over how to handle their most valuable asset — Miley," a family sources says of the Disney star who has built an estimated billion dollar franchise out of her Hannah Montana success.

"This whole situation has hurt Miley's relationship with her mother — she's definitely going to side with her father," an insider tells Star.

For the full story on the Cyrus divorce drama — including what Tish did to win Bret's heart and why Billy Ray should have seen his split with Tish coming and — pick up the new Star on Wednesday.
[From Star Magazine]
Um… the Cyruses have a $150 million estate? How much of that is years of taking their "cut" from Miley's earnings? Because I don't buy that Billy Ray made that much from his music and acting career, nor from wise investments.
With Miley turning 18 years old in a few weeks, I have some advice for her, from An Old to A Young: get some professionals in control of your money, and watch what they do very carefully. Stop using Britney Spears as your guideline, and begin to examine how Madonna has managed her career and her estate. Don't give anybody control over your estate. Stop giving your parents money, but maybe create education trusts from your siblings – Noah especially is going to need to go to college. And if your parents are going to make their trashy divorce proceedings about who has control over you or your estate, you better watch out and get your own lawyer, who answers only to you, who will only represent your interests.
Star cover courtesy of CoverAwards.