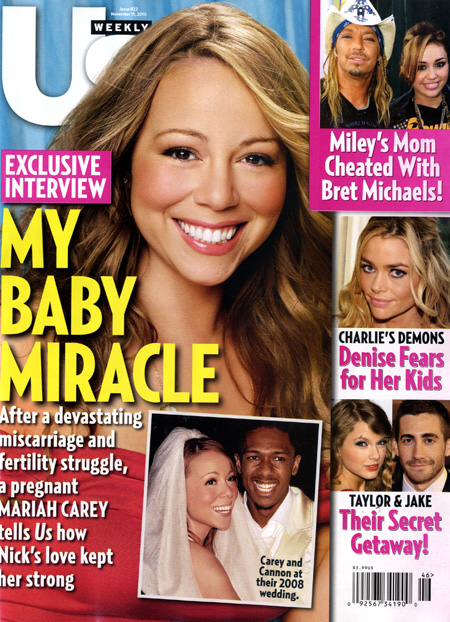 Of all the solutions to life's struggles and tribulations, acupuncture is one of the remedies I am most wary of. I understand the idea behind it – that our bodies have pressure points, and that if you "puncture" a certain part of your toe, your headache will be relieved, et cetera. I know people who swear by it. I know people who hate needles of all kinds, and get barfy and queasy at the idea of someone sticking something sharp into them. I am one of the latter category. I get barfy around needles. My mother was recently hospitalized, and they couldn't find a vein to get blood, and the nurse was jabbing at my mom's arm, and I swear, I started sweating and hyperventilating and I almost passed out.
Anyway, Mariah Carey swears by acupuncture, and she claims – in a new cover interview with Us Weekly – that it helped her in the difficult months she and Nick were trying to get pregnant after their first miscarriage.
After suffering a miscarriage following her April 2008 wedding to Nick Cannon, Mariah Carey cried herself to sleep many nights. But in an exclusive interview in the new Us Weekly (on newsstands now), the singer says she and Cannon never gave up.

Though she dismisses reports that she did IVF, Carey tells Us Weekly she began taking progesterone, a hormone that is often prescribed to boost fertility and support or help maintain pregnancy in women susceptible to miscarriage.

Cannon also tells Us Weekly his wife relied on "once-a-day" acupuncture, "all over her body. I think it helped her quite a bit, because it was a good destressor."

Seeing Carey's face when they learned she was pregnant "was priceless," Cannon recalls. "We definitely cried. We still cry all the time. It's an emotional journey."

With their baby due in spring, Carey says it still "amazes" her she's going to have Cannon's child. "He's a great person, and we have more in common than not," she tells Us Weekly.

"I know people initially were, 'What? Those two?' But I think people who know us get it."

For more – including what Carey thinks about her "weight gain"; what foods she's craving "in the middle of the night" and how they found out she was pregnant – pick up the new Us Weekly today!
[From Us Weekly]
If it works for her, then that's great. But do you think she's lying about not doing IVF? I don't know, I really don't. I think it's perfectly possible that Mariah was on the motherload of fertility drugs, and that's all.
By the way, Mariah was just on Ellen DeGeneres' show, and she talked about whether she would force pink onto a possible daughter – it's really funny. Mariah is already scheming her way into getting either a super-girly-girl or a very fabulous boy.
Us Weekly cover courtesy of CoverAwards.
http://coverawards.com/