Hulk flash is at 1:10
DListed got ahold of this video of Brooke and Hulk Hogan making you never want to play or purchase a new singalong video game called Def Jam Rap Star. While rapping along to Notorious B.I.G., Brooke wags her ass in short shorts. The scene then cuts to Hulk pulling aside his shorts to (presumably) flash his manhood to the camera. Thankfully it's all covered by a black box that's unnecessarily large. (Yes I stole that concept from DListed.) You know that thing is shrunken to pea-size from years of steroid use. Hulk is just trying to show off, but it's disturbing. Brooke looks shocked and then amused, which might indicate that she hasn't seen it before, although that's doubtful.
By having Hulk flash his junk, they got us to watch this minute and a half commercial. Now that we know this video game has Hogan taint on it we'll stay far away, thank you. Do you remember the incident in which Hulk was photographed putting some lotion on Brooke's butt? Brooke later defended that scene by comparing her ass to an "old car." What's her dad's dick then? No, really, all the metaphors I can come up with sound dirty to me and I'm scared to even mention them. Ok, tootsie roll, twig, week-old 7-11 hotdog, earthworm, string bean,lady finger, cucumber sandwich. We should go with one of the inedible choices.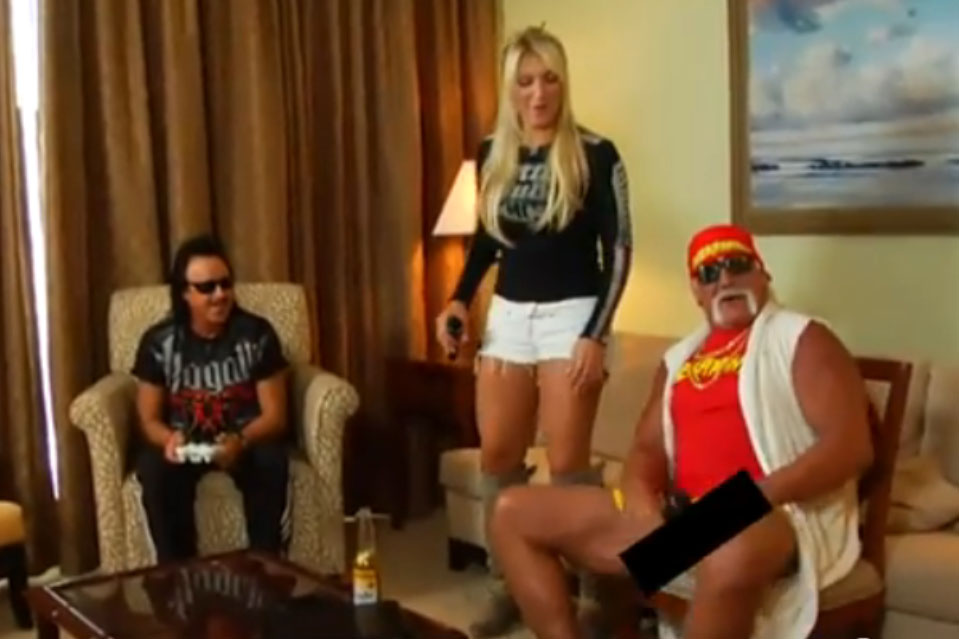 Hulk, his girlfriend and daughter. Guess which one is which.