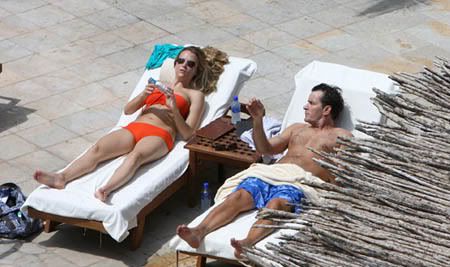 Charlie Sheen and Brooke Mueller may present a united front against his mentally challenged harpy of an ex wife, Denise Richards, but the National Enquirer claims to have insider information that the cracks have already started to appear in their marriage. Charlie calls his marriage to Brooke, his third, his "first real marriage." His partner may have changed, but the negative dynamic he fosters in his relationships probably hasn't.
According to the Enquirer, Charlie and Brooke fought most of the time on their honeymoon in Costa Rica and decided to cut the vacation short by five days. They supposedly locked heads over whether to start a family, and Charlie was so focused on his bitterness toward Denise that he was unable to relax and enjoy his honeymoon. It sounds like their relationship isn't all that different from Charlie's last marriage.
It was the honeymoon from hell for newlyweds Charlie Sheen and Brooke Mueller! The couple squabbled nonstop over starting a family and cut their two-week holiday at an exotic Costa Rican resort short, sources say…

"They bickered and argued and ended up coming home five days earlier than planned." [says an insider]…

The two began butting heads over starting a family even before the plane touched down.

"Brooke wants kids and Charlie doesn't," the insider said. "As far as he's concerned, the joys of parenting have been tinged with misery…

"And when they weren't battling over the baby issue during their honeymoon, Charlie was complaining about Denise, instead of concentrating on Brooke."
[From The National Enquirer, print edition, June 30, 2008]
The Enquirer says they contacted Charlie's rep, who said they didn't come home early from their vacation and that everything is fine between the couple. It wouldn't be surprising if they were fighting given Charlie's history. Although Brooke suffered a miscarriage right before the wedding, according to the Enquirer, Charlie was said to have been supportive but firm that he didn't want to give it another chance with Brooke. You can't blame him given all the crap he's still going through with Denise, but that's a huge issue for a new couple to argue about and if they don't work it out there's probably not a lot of hope for them.
Charlie and Denise Brooke are shown on their honeymoon on 6/2/08, thanks to Splash News.