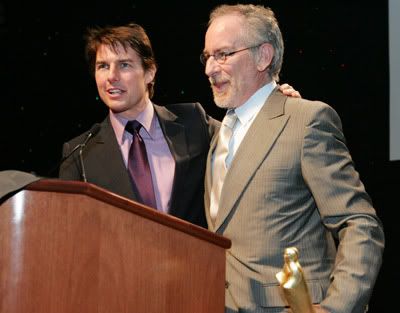 Tom Cruise was said to be on Spielberg's bad side after diverting promotion from "War of the Worlds" to his own crazy cult battle against the pharmaceuticals he so desperately needs. It turns out there's yet another reason for Spielberg to be pissed at Cruise: Scientologists showed up to protest the very psychiatrist Spielberg lauded to Cruise in a personal conversation:
It seems that after Spielberg (in a conversation with Cruise present) praised a psychiatrist who had helped a family member, representatives from the psychiatrist-loathing Church of Scientology staged a protest at the doctor's office.
Although Cruise was said to have assured Spielberg that he was not behind this incident, it infuriated the director and (perhaps more important) Kate Capshaw, also known as Mrs. Spielberg. For a time, it seems, the Spielbergs waited in vain for the star to explain how, exactly, those protesters happened to appear at the doctor's office.
Meanwhile Cruise might be dropped by his studio, Paramount. MI3 didn't overwhelm at the box office, and Spielberg's Dreamworks is now owned by Paramount, making Tom's relationship with Spielberg even more important.
Cruise showed up at the Chicago film festival's tribute to Spielberg in an attempt to make up with the director and salvage his tanking career.
It was also rumored that Cruise went to Spielberg's office a month ago with non-existent baby Suri to do a personal photo session with Spielberg. This is obviously untrue, and Spielberg's spokesperson says that the question of the pictures existing "will never be answered."
People say Spielberg looked uncomfortable with Cruise at the film festival tribute, and you can see the photos below.
Cruise's involvement with Scientology has only hindered his career and damaged his relationships with key players. Either he's too brainwashed to get out now, or the cult has such powerful secrets against him that he will never try.
Maybe we'll all find out what's going on, or at least be entertained by more juicy gossip, when Andrew Morton's tell-all Cruise biography comes out.
Here are pictures of Cruise with Spielberg at the film festival that we published earlier.