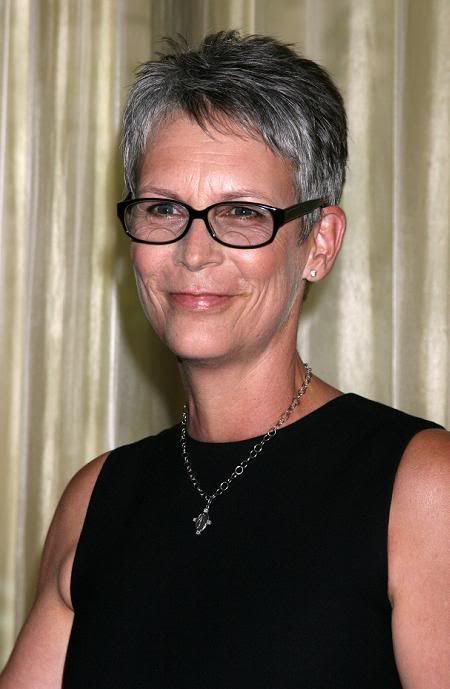 In the upcoming issue of More magazine, actress Jamie Lee Curtis admits that she battled a prescription drug addiction nearly fifteen years ago. She says it started after she had some cosmetic surgery on her eyes and was given a prescription pain killer. Pretty soon she was taking the pills to get high and drinking heavily and combat the loneliness she felt.
The glamorous actress, who became Lady Haden-Guest when her husband inherited his title in 1996, initially hid her dependency from her family. 'No one knew. Chris didn't have a clue,' she says.

The star, whose father was infamous for drug-taking, recalls how her sister Kelly was staying at her mansion while recovering from a broken bone and Jamie Lee began pilfering her pills. Finally, she wrote Kelly a heart-breaking letter which she never sent.
Still stunning: Jamie-Lee Curtis at the Academy 2004

Still stunning: Jamie Lee Curtis arriving at the Oscars in 2004

It said: 'I've been harbouring a bad secret. I have found and taken many of your painkillers. I've betrayed you, and I know that you're angry, and you have every right to be. I am lonely. I take them at night to ease the pain. I was so afraid to tell you.'
[From the Daily Mail]
According to Jamie Lee part of the problem was her low self-esteem that caused her to get plastic surgery in the first place. A camera man had told her she was getting bags under her eyes. And in Hollywood, that's a big deal. She also claims she drank because she felt ugly to her husband and the world in general.
She has said: 'I attempted various types of plastic surgery, minutely but enough to stave off this encroaching middle-aged body. And every time I did, something went wrong. I felt misshapen, just not natural any more. I think it was a big stimulator of my drug abuse.'

In the new interview, which apppears in More, a leading US women's magazine, Jamie Lee says that as part of her recovery she decided to let her hair go grey and stopped wearing high heels. But she admits she has found it difficult striking the right balance.

For a time she 'got so caught up in not caring about body image' that she was becoming unfit. 'So I made a change and lost some weight,' she says.
[From the Daily Mail]
Larry King's wife Shawn Southwick King is currently in rehab for a prescription painkiller addiction. Everyone has their own way of dealing with self-esteem issues and feeling unattractive. Certainly drugs and alcohol aren't uncommon, along with over and under eating. It sounds like Jamie Lee has finally found a balance that works for her – something that can take a lifetime. She also remembers what she's gone through, and says that she keeps the letter she wrote to her sister as a constant reminder.
Here's Jamie Lee Curtis being honored with a star on the Hollywood Walk of Fame on June 11th. Images thanks to WENN.