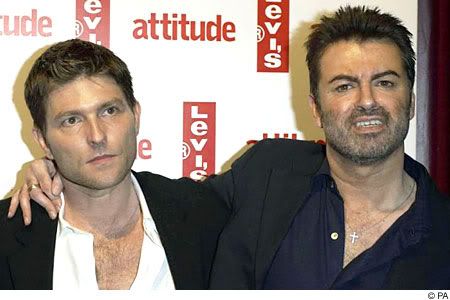 Fresh on the heels of getting caught wanking a 58 year-old pot-bellied dude in a park, it was said that George Michael and his longterm partner, American Kenny Goss, have called off their planned gay wedding. The wedding was to take place around their tenth anniversary, sometime before the end of the Summer.
After the photos came out in Britain's News of the World of a disheleved and surprised Michael and his one-time hookup, umemployed Norman Kirtland, Michael's partner defended him, saying that they were putting the incident behind them:
However today while George kept his head down his long suffering partner Kenny Goss decided to stand by his man.

Visibily distraught Kenny, who answered the door at George's £5 million mansion, said: "George is not going to say anything today. He has already said what he wants. This is behind us. That is everything we are going to say on the subject. We are getting on with the rest of our lives."
Reports had the two cancelling their planned wedding, saying that they are "reassessing their relationship," but another story has Micheal insisting the wedding is still on, and making it obvious why hot Goss has stayed with his cheating ass:
But despite straying from boyfriend-of-10-years Goss,

the former WHAM! heart-throb is adamant their civil partnership ceremony will still go ahead, joking his $1.8 million (£1 million) anniversary gift had set matters right.

He says, "I'd have to do something he dislikes before it was off." The couple are expected to tie the knot before Michael's 50-date European tour begins in September (06).
Why do people always think an expensive gift will set matters right after they cheat? Probably because it works with their sad, unfulfilled money-grubbing partners. (Kobe, Beckham)
Michael has been embroiled in scandal for several months, after being caught with pot and poppers in his car back in March, and photographed passed out at a stoplight in May. He'll need to get treatment for his sex and drug addiction if he wants to "pull off" a gruelling 50-date tour.