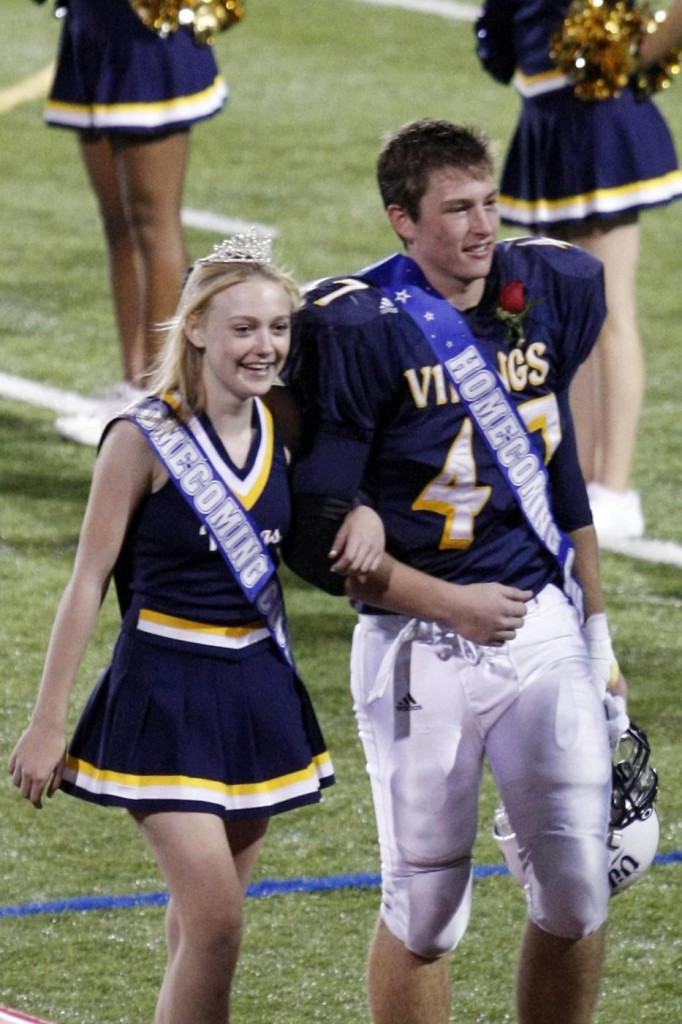 These photos are from last year. You can see Fanning as homecoming queen on Just Jared
Dakota Fanning, 16, has proven herself to be a rare teen star who can balance a successful Hollywood career with a normal school life. Last year Fanning was crowned Homecoming Princess at the private high school where she's also a cheerleader. Now in her Senior year, Fanning has taken home the coveted crown of Queen. It looks like her king is the same guy as last year too. This just goes to show that Fanning is as popular with her classmates as she is on screen. Here's a report on that from Yahoo!, along with some quotes she gave about the importance of school:
Everyone's a fan of 16-year-old Dakota Fanning — including her classmates at Campbell Hall in North Hollywood, California. The veteran actress/high school senior was named to her private school's homecoming court for the second year in a row!

In 2009, Dakota was awarded the title of "princess" while proudly wearing her cheerleading uniform and supporting her team, the Vikings, at the homecoming game, but during this year's half-time ceremony on Saturday night, the "Twilight" star ditched her school colors in favor of a funkier ensemble. The teen queen (literally) rocked black tights, boots, and a sparkly frock while accepting a bouquet of red roses, a sash with her title, and the coveted crown.

Dakota explained her decision to go to school — at least when she's not on a set — on "Today" last June. "I think it was really important to have the high school experience," she said. "I think that I want [the college] experience as well. I just think everyone always looks back on that time in their life. Who was homecoming princess and [did] the cheerleading … and all the things that go along with high school? And I wanted to have that. I'm really lucky that I found a school that allows me to do both."
[From OMG.Yahoo.com]
Dakota could have been tutored and home schooled, but she chose to put herself out there and work at going to high school and getting involved in extra curricular activities despite a busy filming schedule. I have a lot of respect for the way she's handled herself throughout her career, particularly when you compare her to other famous girls her age. Her parents deserve a lot of credit too.
Photo Credit: Pacific Coast News. These photos are from 2009 when Dakota was homecoming princess. New photos are on Just Jared.