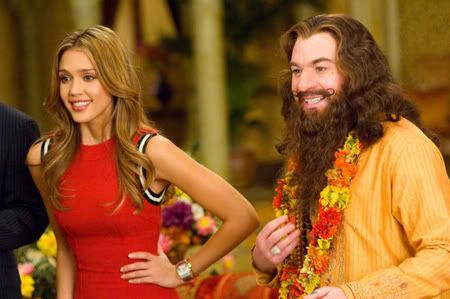 The Love Guru stinks on a level previously untouched by anything other than I Know Who Killed Me. Everyone is slamming the movie – in fact it's received some of the harshest, most vivid criticism I've read in years. The film came in fifth on its opening weekend at the box office – and even that was surprising. The film was released right after a scathing Entertainment Weekly story about what a jerk Mike Myers is.
On top of that, the film had already been harshly criticized and boycotted by Hindus. Now Catholics are jumping on the bandwagon, calling the film morally offensive. I can't help but agree that it's offensive – if for no other reason than it apparently sucks worse than anything. Ever.
A leading Catholic group has come to the aid of America's Hindus who are boycotting Mike Myers' new film The Love Guru – because religious officials have found the film to be "morally offensive." The United States Conference of Catholic Bishops (Usccb) has slapped the comedy with its highest classification.

Hindu leader Rajan Zed, who has been leading the outcry about the new film, is thrilled that other religious officials are taking his concerns seriously – branding the new 'O' rating the Catholics have given the movie a "remarkable interfaith gesture".

Rajan Zed says, "We are thankful to the Conference of Catholic Bishops for having a feel for the pain of the Hindu and spiritual community by categorizing The Love Guru as morally offensive." Zed called for a full Hindu boycott of the film because it allegedly uses Hindu concepts and Hindu terms frivolously. He asked other religious groups to lend their support.

He adds, "Today it is Hinduism, tomorrow Hollywood might attempt to denigrate another religion." Prominent Jewish Rabbi, Elizabeth W. Beyer of Nevada, has already called for a boycott of The Love Guru because the film "lampoons Hinduism, mocks Ashram life and Hindu philosophy."
[From WENN via IMDB]
Part of the Catholic's issue with the film is that it's "vulgar and tasteless" (but to be fair, a lot of things are) and that it "wallows in endless penis jokes and fairly yucky potty humor." I didn't know bishops were supposed to say "yucky." But if it's so bad that you're resorting to speaking like a three-year-old, that really says something for just how crappy this film really is.
After reading about what a jerk Mike Myers is, I'm really happy that his movie is doing so poorly. Egos like his are beyond ridiculous. That whole thing about him making an intern at Conan O'Brien's show go out and get him raspberry seltzer – and then making the guy go out again because it wasn't the brand Myers likes – really made me wish plagues and boils on him. Or at least a lack of financial success. So one of my dreams is coming true.