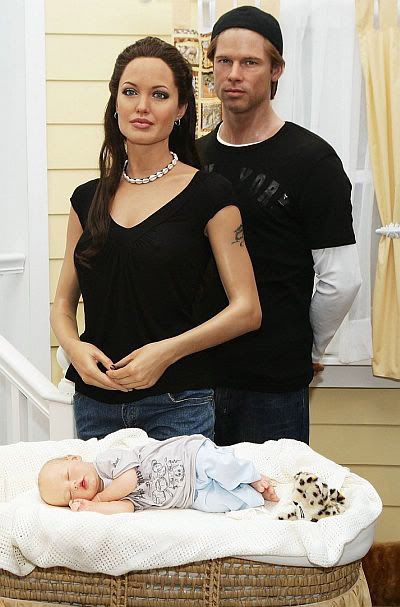 Now that the first wax baby has been unveiled at Madame Tussaud's museum, it's obvious why they didn't do it sooner. The thing looks like one of those creepy reborn dolls that people paint to look like newborns. My husband's aunt has one of those things at her house, and we took a picture of it because it fascinated us. We also put my then seven month-old son in the doll's bed after he fell asleep. (Before you think I dressed him in too-small clothes, those were his backup pants after he had an accident.)
Waxed Angelina looks like a female impersonator, but she isn't as bad as the wax version of Keira Knightly.
Now that Shiloh is immortalized as an infant, maybe Madame Tussauds can help Tom and Katie dispel those pesky rumors that Suri doesn't exist. She's over three months old and has never been photographed, but maybe Katie can bring her in for a personal wax session. A waxed baby Suri would do wonders to make her seem real.
Pictures from Celebguru and GossipRocks.