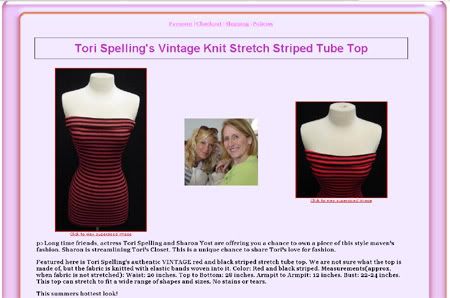 As you've probably noticed, the gossip has been light here this week. I've been working on a big corporate website that I haven't said anything about because I assumed I could keep up with the celebrities, do that other project, watch my kid, and take care of the house all at once during one of the hottest weeks of the year. Of course I couldn't and I'm exhausted!
Thanks for bearing with me. My big project is wrapping up this week, my babysitter is coming back from vacation, and I'll have more time for the blog on Monday. In the mean time here are some gossip links.
I've been thinking a lot about "poor" Tori Spelling's predicament now that she's inherited less than $1 million from her uber-rich dead dad.
I once read a John Grisham novel about one of the richest guys on the planet who had a bunch of children by different wives. His plan was to give each of his ungrateful kids $1 million on their 18th birthday and watch how they foolishly squandered it. Since they couldn't manage their money, he decided to leave them a pittance in his will. Right after he died, all his kids went heavily into debt thinking they were about to strike it rich. He left them just enough to pay off the debts they incurred before he died.
My point is that Tori undoubtedly has a shitload of debt because she expected to get a sizable portion of her father's $500 million estate. Not only have we seen those staged pictures of her outside a pawn shop, she's now selling her clothes on eBay. That's got to hurt. Maybe she should have been nicer to her mom, because she could get some eBay tips from her. Her seller posts are very poorly designed.
– Tori Spelling is selling her clothes on eBay [Bricks and Stones]
– It's sad when Jake Gyllenhaal and Matthew McConaughy bike without Lance Armstrong. [Mollygood]
– Heidi Klum and Seal to have a boy [Barbie Martini]
– Get hairstyle tips and makeup secrets to look like Jessica Alba, Jessica Simpson, and Jennifer Lopez at our advertiser, Beauty Riot. [Beauty Riot]
– Christina Aguilera looks normal and drunk [Jordan is your Homeboy]
– Is Halle Berry pregnant? [smart]
– Should Kurara Chibana have won Miss Universe 2006? [The Bastardly]
– One of Pamela Anderson's weddings to Kid Rock isn't going to be valid [CelebGuru]
– Get your Celebrity DNA (Did you see "Slacker"? Remember Madonna's pubic hair? It's like that.) [CityRag]
– Gisele Bundchen bikini pictures [Egotastic]
– Clever illustration of Reese Witherspoon vs. Star Magazine [Gallery of the Absurd]
– Pamela Anderson launches poker site [Glitterati]
– Paris Hilton and Nicole Richie to reunite on Letterman [I'm not obsessed]
– Babs is a beauty [Dlisted]