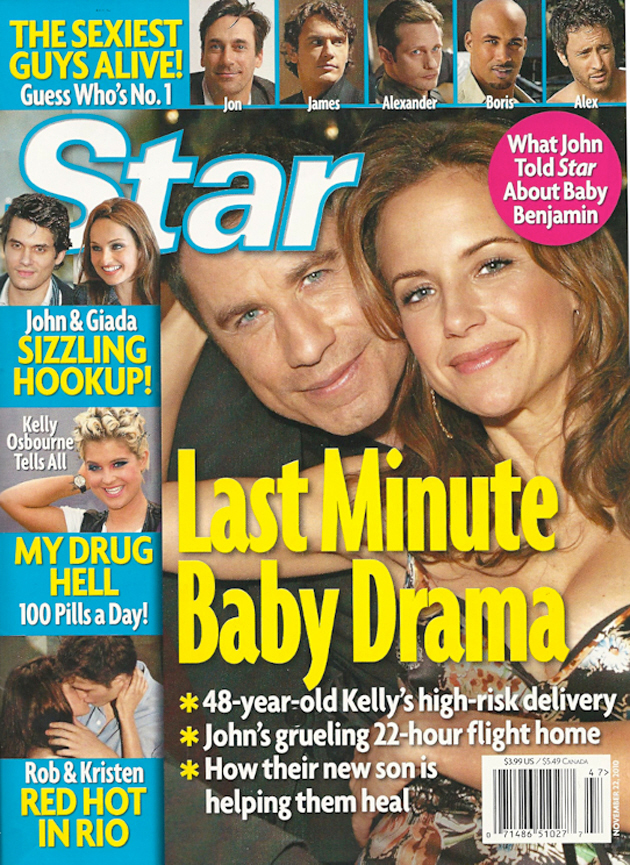 This week, several tabloids have "WTF?" stories about John Travolta. JT flew to Australia, you see, for a days-long trip to promote something or other. Quantas, I guess. The thing is, Kelly Preston is due any day now. Or should I say "due". You see, I kind of bought that Kelly was/is pregnant. I thought many of you were conspiracy theorists, spinning a tale of Xenu's pillow baby. Now I'm starting to agree with you – because Travolta is being relaly blasé about Kelly's imminent "delivery".
John Travolta and Kelly Preston have begun the final countdown to the birth of their new baby, a boy they've already named Benjamin.

"I can't wait to meet Benjamin," Travolta told Extra in an interview airing Thursday. But he says that might happen sooner than he planned.

Confirming Preston's due date is Nov. 26, Travolta revealed his wife, 48, has had some dicey moments lately — but even though he's in Australia to celebrate the 90th Anniversary of Qantas Airways, he's ready to rush home.

"When I left, she was having what they call Braxton Hicks, the fake labor, and we were both a little worried," Travolta, 56, says. "But then the doctor said to drink more water, more liquids and that stops that."

"I think she just had a little talk with Ben and said, 'Look, let's wait till Dad comes home and deliver then,'" Travolta adds. "But I'm ready to go at any minute. If she started having labor now we would leave and take 22 hours to get home, but I'll get there."

The actor also revealed the family, including daughter Ella Bleu, 10, will spend the holidays on the east coast, and plan to head "up to Maine for Christmas."
[From People]
What. The. F-ck? "But then the doctor said to drink more water, more liquids and that stops that." So I guess John figured he was good to go, after he put a glass of water beside the bed. His wife is "due" in a couple of weeks, but the Australian bathhouses were calling, so Travolta was all "smell ya later, bitch."
So I'm including Star Magazine's cover, because they (and the Enquirer) aren't buying Travolta's "the baby will come when I'm ready" talk. In fact, Star reports that Kelly is "on edge" about the whole thing. A source close to her says "She doesn't feel well, and she could really use the love and support of her husband right now." Oh, and she's been put on bed rest!! What the hell? So here are the choices: either Kelly is actually pregnant, and she's due any minute, and Travolta doesn't give a sh-t, OR: Travolta doesn't give a sh-t because he knows that Kelly removing her pillow isn't that arduous a process. Either/or.