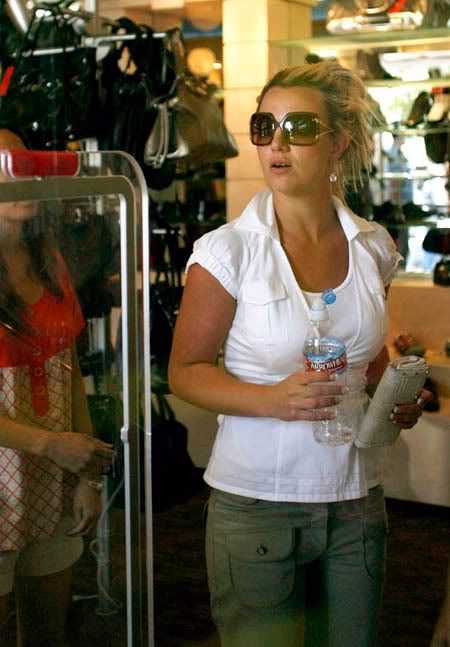 Mel Gibson has twin sons who turn 26 this year, Edward and Christian, who both have stints in rehab. Ed was out of rehab late last year for an alcohol and cocaine addiction, and Christian got a DUI in 2006 and checked into rehab in late January of this year. Mel, who has also has a well publicized DUI under his belt, has recently befriended pop singer Britney Spears, 26. Britney has spent time at Mel's estate in Costa Rica and has been seen out to dinner with him and his family.
While some speculated that Mel wanted to help Britney with her personal problems, and others wondered if he was trying to convert her to his unique brand of Catholicism, Mel may have had another motivation for spending time with Britney. The National Enquirer reports that Mel tried to set Britney up with the less messed-up twin her age, Edward, but that Britney wasn't having that. Mel's son Edward is working his recovery program and the Enquirer says Mel believed he would be a good influence on her.
[Mel Gibson] believed his son Edward – who was in rehab last year for cocaine and alcohol addition – had turned his life around and could help Britney do the same, an insider told The Enquirer.

"Mel felt Ed would be a great influence on Brit, and if the relationship turned to romance, all the better," said the insider.

So Gibson arranged a meeting between the pair at Britney's home in the Hollywood Hills last March, said the source.

"He sincerely believed that his son could help Britney stay on the straight and narrow and that they might hit it off as a couple as well," the insider explained.

But Britney, 26, gave the cold shoulder to Mel and Edward…

"She hid from them most of the night," revealed the insider. "Mel and his son spent most of the evening talking to her bodyguards."
[From The National Enquirer, print edition, July 7, 2008]
There must have been no hard feelings between Britney and Mel after she tried to avoid the set up with one of his sons. She was seen at his Costa Rican getaway in mid-May. Britney also brought along a man with whom she's been romantically linked in the past, agent Jason Trawick. Maybe Britney and Jason were already dating at that point and she wasn't open to meeting Mel's son or maybe she just wasn't interested in the guy. Can you imagine thinking it's a good idea to set up Britney Spears with a member of your family, though? At that point it had only been two months since she had that big melt down and was hospitalized.
In related news, OK! Magazine reports that Britney and Kevin had a "secret meeting" with their lawyers over the custody of their two boys. It is thought they are working to avoid having to go to trial to hash out custody issues. The talks were said to be unsuccessful, though, with neither of them willing to compromise. Britney went back home and then had a massage at the Ritz Carlton.
Britney is shown shopping at Fred Segal with her bodyguards on Tuesday, 6/24, thanks to WENN.